Common warts
Overview
Common warts are small, grainy skin growths that occur most often on your fingers or hands. Rough to the touch, common warts also often feature a pattern of tiny black dots — sometimes called seeds — which are small, clotted blood vessels.
Common warts are caused by a virus and are transmitted by touch. Children and young adults are more likely to develop common warts, as are people who have weakened immune systems. Common warts usually disappear on their own, but many people choose to remove them because they find them bothersome or embarrassing.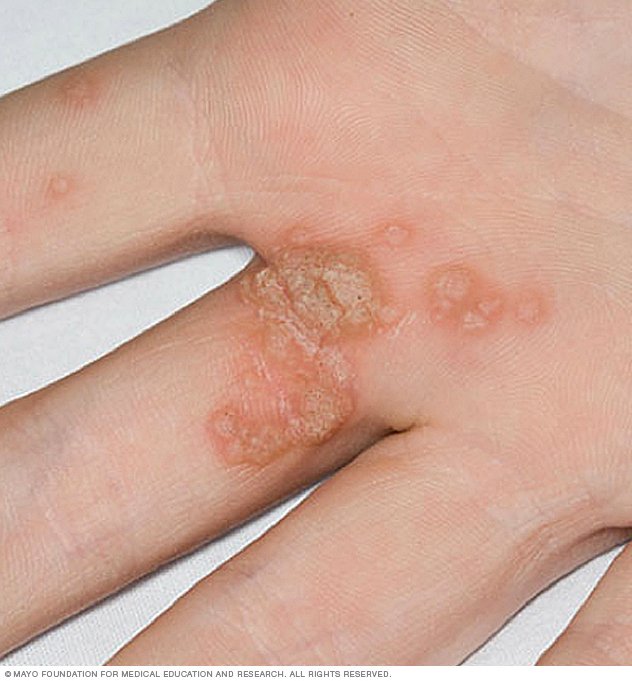 Common warts
Common warts can grow on your hands or fingers. They're small, grainy bumps that are rough to the touch. They're usually flesh-colored, white, pink or tan.
Symptoms
Common warts usually occur on your fingers or hands and may be:
Small, fleshy, grainy bumps
Flesh-colored, white, pink or tan
Rough to the touch
Sprinkled with black pinpoints, which are small, clotted blood vessels
When to see a doctor
See your doctor for common warts if:
The growths are painful or change in appearance or color
You've tried treating the warts, but they persist, spread or recur
The growths are bothersome and interfere with activities
You also have a weakened immune system because of immune-suppressing drugs, HIV/AIDS or other immune system disorders
You aren't sure whether the growths are warts
Causes
Common warts are caused by an infection with the human papillomavirus (HPV). More than 100 types of HPV exist, but only a few cause warts on your hands. Other types of HPV are more likely to cause warts on your feet and other areas of your skin and mucous membranes. Most types of HPV cause relatively harmless conditions such as common warts, while others may cause serious disease such as cancer of the cervix.
You can get warts from skin-to-skin contact with people who have warts. If you have warts, you can spread the virus to other places on your own body. You can also get the wart virus indirectly by touching something that another person's wart touched, such as a towel or exercise equipment. The virus usually spreads through breaks in your skin, such as a hangnail or a scrape. Biting your nails also can cause warts to spread on your fingertips and around your nails.
Each person's immune system responds to the HPV virus differently, so not everyone who comes in contact with HPV develops warts.
Risk factors
People at higher risk of developing common warts include:
Children and young adults
People with weakened immune systems, such as those with HIV/AIDS or people who've had organ transplants
Prevention
To reduce your risk of common warts:
Avoid direct contact with warts. This includes your own warts.
Don't pick at warts. Picking may spread the virus.
Don't use the same emery board, pumice stone or nail clipper on your warts as you use on your healthy skin and nails.
Don't bite your fingernails. Warts occur more often in skin that has been broken. Nibbling the skin around your fingernails opens the door for the virus.
Groom with care. Use a disposable emery board. And avoid brushing, clipping or shaving areas that have warts. If you must shave, use an electric razor.
Wash your hands carefully after touching your warts or surfaces such as shared exercise equipment.
Diagnosis
In most cases, your doctor can diagnose a common wart with one or more of these techniques:
Examining the wart
Scraping off the top layer of the wart to check for signs of dark, pinpoint dots — clotted blood vessels — which are common with warts
Removing a small section of the wart (shave biopsy) and sending it to a laboratory for analysis to rule out other types of skin growths
Treatment
Most common warts go away without treatment, though it may take a year or two and new ones may develop nearby.
Some people choose to have their warts treated by a doctor because home treatment isn't working and the warts are bothersome, spreading or a cosmetic concern.
Your doctor may suggest one of the following approaches, based on the location of your warts, your symptoms and your preferences. These methods are sometimes used in combination with home treatments, such as salicylic acid.
The goals of treatment are to destroy the wart, stimulate an immune system response to fight the virus, or both. Treatment may take weeks or months. Even with treatment, warts tend to recur or spread. Doctors generally start with the least painful methods, especially when treating young children.
Stronger peeling medicine (salicylic acid). Prescription-strength wart medications with salicylic acid work by removing layers of a wart a little bit at a time. Studies show that salicylic acid is more effective when combined with freezing.

Freezing (cryotherapy). Freezing therapy done at a doctor's office involves applying liquid nitrogen to your wart. Freezing works by causing a blister to form under and around your wart. Then, the dead tissue sloughs off within a week or so. This method may also stimulate your immune system to fight viral warts. You may need repeat treatments.

Side effects of cryotherapy include pain, blistering and discolored skin in the treated area.

Other acids. If salicylic acid or freezing isn't working, your doctor may try bichloroacetic or trichloroacetic acid. With this method, the doctor first shaves the surface of the wart and then applies the acid with a wooden toothpick. It requires repeat treatments every week or so. Side effects are burning and stinging.
Laser treatment. Pulsed-dye laser treatment burns (cauterizes) tiny blood vessels. The infected tissue eventually dies, and the wart falls off. The evidence for the effectiveness of this method is limited, and it can cause pain and scarring.
Lifestyle and home remedies
Home treatment is often effective in removing common warts. Many people have removed warts with:
Peeling medicine (salicylic acid). Nonprescription wart removal products such as salicylic acid are available as a patch or a liquid. For common warts, look for a 17 percent salicylic acid solution or a 15 percent patch. These products require daily use, often for a few weeks. For best results, soak your wart in warm water for 10 to 20 minutes before applying the medication. File away any dead skin with a disposable emery board or a pumice stone between treatments.
Freezing. Nonprescription products to freeze warts include liquid nitrogen in liquid or spray form (Dr. Scholl's Freeze Away and others) and dimethyl ether in spray form (Compound W Freeze Off). The Food and Drug Administration cautions that some wart removers are flammable and shouldn't be used around fire, flame, heat sources (such as curling irons) and lit cigarettes.

Duct tape. Cover the wart with silver duct tape for six days. Then soak it in water and gently remove dead tissue with a pumice stone or disposable emery board. Leave the wart exposed for about 12 hours, and then repeat the process until the wart is gone.

Study results have been mixed on the effectiveness of duct tape in removing warts, either alone or with other therapies.
Alternative medicine
The following alternative treatments have worked for some people, but no evidence shows they're any better than salicylic acid and cryotherapy:
Zinc. This is available as an ointment you apply to the wart or as a pill. The oral form may be particularly effective in people with a zinc deficiency.
Silver nitrate. This is available as a solution or ointment you apply to the wart.
Smoke. Some people showed benefit from treating their wart in a "smoke box" with smoke from burnt leaves of a type of poplar tree called Populus euphratica.
Preparing for an appointment
You'll likely start by seeing your primary care doctor. But you may be referred to a specialist in disorders of the skin (dermatologist). The following tips can help you prepare for your appointment.
What you can do
Bring a list of all medications you take regularly — including over-the-counter (nonprescription) medications and dietary supplements — and the daily dosage of each.
You may also want to list questions for your doctor, such as:
What made the warts develop?
If I have them removed, will they come back?
What types of treatments are available to remove the warts, and which do you recommend?
What types of side effects can I expect?
What are the alternatives to the primary approach you're suggesting?
If the growths aren't warts, what tests do you need to do?
How can I prevent warts?
What to expect from your doctor
Your doctor may also have some questions for you, such as:
When did you first notice the warts?
Have you ever had them in the past?
Are you bothered by the warts, either for cosmetic reasons or for comfort?
What treatments have you already used for your warts? If so, how long have you used them and what were the results?
Last updated: April 9th, 2015
© 1998-2018 Mayo Foundation for Medical Education and Research (MFMER). All rights reserved. Terms of use
Learn more about Common warts
Associated drugs
Symptoms and treatments
Mayo Clinic Reference