This material must not be used for commercial purposes, or in any hospital or medical facility. Failure to comply may result in legal action.
Uso Del Condón Femenino
LO QUE NECESITA SABER:
Un condón o preservativo femenino es una funda de plástico suave que se introduce en la vagina para prevenir el embarazo y las enfermedades de trasmisión sexual (ETS) o venéreas.
INSTRUCCIONES SOBRE EL ALTA HOSPITALARIA:
Utilice el condón femenino correctamente:
Guarde el condón en un lugar fresco y seco: El calor puede dañar el condón. Verifique la fecha de vencimiento. No utilice el preservativo si ya ha pasado la fecha de vencimiento .
Utilice un condón nuevo con cada relación sexual: No se pueden lavar y volver a usar.
Utilícelo con un segundo método de protección: La mejor forma de protegerse usted y a su pareja es usar un condón con una esponja, capuchón cervical, o espermicida. Pídale a su médico más información sobre otros métodos anticonceptivos. No utilice el condón femenino sí su pareja usa un condón masculino. Los dos condones se pueden quedar pegados y salirse fuera de lugar.
La aplicación del condón femenino: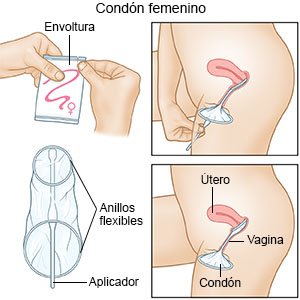 Encuentre una posición cómoda para colocarse el condón: Puede sentarse, ponerse en cuclillas o estar de pie y colocar un pie sobre una silla.
Use un lubricante a base de agua: Coloque 1 o 2 gotas del lubricante a base de agua o el espermicida en la parte de afuera del extremo cerrado del condón.
Inserte el condón femenino: Mantenga el extremo cerrado del condón y apriete el anillo interior entre el pulgar y su dedo. Use su otra mano para separar los labios (pliegues de piel alrededor de la vagina). Coloque el anillo apretado dentro de su vagina y empuje hacia arriba tanto como pueda. Coloque su dedo índice o medio o ambos dentro del extremo abierto hasta que toque el anillo interior. Empuje el anillo interior hacia atrás tanto como pueda dentro del canal vaginal.
Revise el anillo exterior: Asegúrese de que el anillo exterior está aplanado sobre el área exterior del orificio vaginal. Es posible que necesite asegurar el anillo exterior cuando su pareja vaya a introducir el pene. Esto ayuda a prevenir que todo el condón sea empujado dentro de su vagina.
Retirando un condón femenino usado:
Tuerza el anillo exterior: Esto ayuda a mantener el semen dentro del condón.
Saque con cuidado el condón hacia afuera: Haga esto antes de ponerse de pie.
Bote el condón en la basura: Envuelva el condón usado en papel higiénico o pañuelo desechable y tírelo en la basura. No lo arroje al inodoro o retrete.
Comuníquese con su médico si:
Usted de repente tiene picazón o la piel alrededor de su vagina está roja o inflamada.
Tiene náuseas, vómitos o cólicos estomacales.
Un condón se rompe o se filtra durante el acto sexual.
Usted piensa que podría estar embarazada.
Usted tiene preguntas o inquietudes acerca de su condición o cuidado.
Further information
Always consult your healthcare provider to ensure the information displayed on this page applies to your personal circumstances.