This material must not be used for commercial purposes, or in any hospital or medical facility. Failure to comply may result in legal action.
Yag Laser Eye Treatment
AMBULATORY CARE:
What you need to know about YAG laser treatment:
A YAG laser can be used to treat several types of vision problems. Examples include sealing leaking blood vessels, reducing pressure in the eye, replacing the cornea, and removing part of the iris. The most common procedure is a capsulotomy after cataract surgery. This procedure is used when clouding develops behind the lens placed after cataract removal. The laser creates a small hole behind the lens that light can pass through.
How to prepare for the procedure:
Your healthcare provider will tell you how to prepare. Arrange to have someone drive you home after the procedure. You may need to have 1 eye treated at a time. Treatment may be a few weeks apart. Make sure you arrange to have someone drive you home after each treatment session.
Bring dark sunglasses to your laser treatment appointments. Drops are used to dilate (widen) your pupils before treatment. Your pupils will absorb more harmful sunlight than usual while they are dilated. You will need to wear the dark sunglasses during your ride home.
Tell your provider about all medicines you currently take. He or she will tell you if you need to stop any medicine for the procedure, and when to stop. He or she will tell you which medicines to take or not take on the day of the procedure.
What will happen during the procedure:
Your healthcare provider will talk to you about what to expect for your exact procedure.
You may be given local anesthesia as eyedrops or shots to help prevent discomfort. You may still feel a mild ache during the procedure, but you should not feel pain. A contact lens will be placed on your cornea. The lens will keep your eye still and help the laser focus.
The machine used for the procedure is similar to the machine used during a regular eye exam. You will sit with your chin on the chinrest and your forehead against the headrest. You may be asked to look at a target with the eye that is not being treated. This helps you keep your treated eye where your provider wants it during treatment.
Your healthcare provider will aim the laser where you need treatment. The number of bursts from the laser will depend on the reason you are having treatment. You may hear a click or similar sound with each burst. You will see flashes of bright light during the procedure. Tell your provider if you feel severe pain while the laser is being used. He or she may need to make changes to your procedure.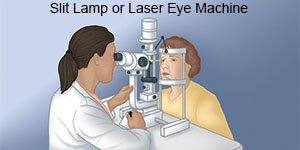 What to expect after the procedure:
You may be given drops to reduce pressure in your eye.
Anti-vascular endothelial growth factor (anti-VEGF) treatment may be given to reduce swelling and improve vision.
You should be able to return to most activities right away.
You may feel a mild ache in your eye or see flashes of light for a day or two.
Your vision may be blurry for up to a week.
You may have a headache for a few hours.
Risks of YAG laser treatment:
The pressure or inflammation in your eye may increase. Your retina may become detached. The lens placed after cataract surgery can be damaged or displaced. The macula (part of the eye that gives pinpoint focus) may be damaged.
Call your local emergency number (911 in the US) if:
Seek care immediately if:
You suddenly see more floaters.
You have severe eye pain.
You have more trouble seeing.
Call your doctor or ophthalmologist if:
You have new or worsening vision problems.
You continue to have a headache after 2 days.
You have questions or concerns about your condition or care.
Protect your vision:
Get an eye exam as often as directed. Your healthcare provider will tell you how often to have eye exams. Early diagnosis and treatment of eye problems may prevent permanent vision damage.
Manage health conditions that can cause vision problems. Common examples include diabetes, high blood pressure, and high cholesterol. Follow up with healthcare providers who manage these conditions.
Wear sunglasses with UVA and UVB protection. Ultraviolet (UV) light from the sun can damage your eyes and increase your risk for vision loss.
Eat foods that contain eye-healthy nutrients. Healthy nutrients include vitamin A, vitamin C, vitamin E, omega-3 fatty acids, lutein, and zeaxanthin. They can be found in foods such as spinach, kale, collard greens, fish, and vegetable oils. Ask your healthcare provider for a full list of foods that contain eye-healthy nutrients. You may need to take a vitamin or supplement to help you get enough of these nutrients.
Exercise as directed. Exercise can help control your blood pressure and blood sugar levels. Ask your healthcare provider about the best exercise plan for you.
Do not smoke. Nicotine can damage blood vessels in your eyes. Do not use e-cigarettes or smokeless tobacco in place of cigarettes or to help you quit. They still contain nicotine. Ask your healthcare provider for information if you currently smoke and need help to quit.
Follow up with your doctor or ophthalmologist as directed:
Write down your questions so you remember to ask them during your visits.
© Copyright IBM Corporation 2021 Information is for End User's use only and may not be sold, redistributed or otherwise used for commercial purposes. All illustrations and images included in CareNotes® are the copyrighted property of A.D.A.M., Inc. or IBM Watson Health
The above information is an educational aid only. It is not intended as medical advice for individual conditions or treatments. Talk to your doctor, nurse or pharmacist before following any medical regimen to see if it is safe and effective for you.
Further information
Always consult your healthcare provider to ensure the information displayed on this page applies to your personal circumstances.