Vaginal Ring
Medically reviewed by Drugs.com. Last updated on Jul 4, 2022.
What is a vaginal ring?
A vaginal ring is a small flexible ring that sends hormones into your vagina. The vaginal ring may be used to prevent pregnancy. It may also be used to treat symptoms, such as vaginal dryness and itching, that occur with menopause.
What do I need to know about the vaginal ring?
You need a prescription from your healthcare provider. Tell your healthcare provider if you are allergic to any medicine. Also tell your provider if you or someone in your family had a blood clot or stroke. Tell him or her if you have a condition that increases your risk for blood clots, such as factor V Leiden.
A vaginal ring does not protect you from sexually transmitted infections.
About 9 out of 100 women will still get pregnant when using the ring.
How long do I use my vaginal ring?
Your healthcare provider will tell you when to start using the vaginal ring. He or she will also show you how to put in your vaginal ring. Use it as directed.
If you are using the vaginal ring as birth control , keep it in place for 21 days in a row. After 21 days, you take it out for 7 days. You should have your menstrual period during this 7 days. After the 7 days, place a new ring in your vagina, even if your period has not stopped. If your ring falls out and stays out for 3 hours or more, put a new ring in. Use an additional method of birth control until the ring has been in place for 7 days in a row.
If you are using the vaginal ring for menopause symptoms , keep the ring in place for 90 days (3 months). After 3 months, take out your old ring and put in a new one.
How do I insert my vaginal ring?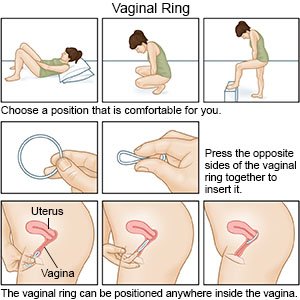 You may lie down, stand with one leg up, or squat when you insert the ring. Choose a position that feels best to you.
Wash your hands with soap and water. Dry your hands. Remove your vaginal ring from its pouch.
Gently press the sides of the ring together with your thumb and pointer finger.
Push the ring high up into your vagina like a tampon.
When your vaginal ring is in place, you should not feel anything. If you feel discomfort when the ring is in place, it may not be far enough inside your vagina. Gently use your finger to push the ring higher into your vagina. It is important that your vaginal ring is placed in the upper part of the vagina.
You do not have to worry that you will push the ring up too far or that it will get lost. Your cervix (the narrow, lower end of your uterus) will block the ring from going too high in your vagina.
If the ring slips down into your lower vagina, use your finger to push it back up. If the ring comes completely out, rinse it in warm (not hot) water and put it back in.
How do I remove my vaginal ring?
Wash and dry your hands.
You may lie down, stand with one leg up, or squat when you remove the ring. Choose a position that feels best to you.
Use your finger to hook the ring and gently pull it out. Do not flush the old ring down the toilet. Throw the ring away where children or pets cannot get to it.
What are the risks of a vaginal ring?
You may develop a headache, nausea, or breast tenderness. You may have vaginal discharge and discomfort or irritation. Rarely, the vaginal ring may increase your risk for blood clots, heart attack, stroke, and high blood pressure.
Call your local emergency number (911 in the US) for any of the following:
You have any of the following signs of a stroke:

Numbness or drooping on one side of your face
Weakness in an arm or leg
Confusion or difficulty speaking
Dizziness, a severe headache, or vision loss

You feel lightheaded, short of breath, and have chest pain.
You cough up blood.
When should I seek immediate care?
Your arm or leg feels warm, tender, and painful. It may look swollen and red.
When should I call my doctor?
You are bleeding from your vagina and it is not your monthly period.
Your vaginal ring causes itching, pain, or burning.
You have stomach pain or tenderness, or you are vomiting.
You have trouble sleeping, feel tired, or your mood changes.
You have questions or concerns about your condition or care.
Care Agreement
You have the right to help plan your care. Learn about your health condition and how it may be treated. Discuss treatment options with your healthcare providers to decide what care you want to receive. You always have the right to refuse treatment. The above information is an educational aid only. It is not intended as medical advice for individual conditions or treatments. Talk to your doctor, nurse or pharmacist before following any medical regimen to see if it is safe and effective for you.
© Copyright IBM Corporation 2022 Information is for End User's use only and may not be sold, redistributed or otherwise used for commercial purposes. All illustrations and images included in CareNotes® are the copyrighted property of A.D.A.M., Inc. or IBM Watson Health
Further information
Always consult your healthcare provider to ensure the information displayed on this page applies to your personal circumstances.