Stroke Prevention
Medically reviewed by Drugs.com. Last updated on Aug 31, 2022.
AMBULATORY CARE:
Stroke prevention
includes making lifestyle changes and managing health conditions that can lead to a stroke. Your healthcare provider can help you create a plan that will be specific to your needs.
Know your risk for a stroke:
You cannot control some risk factors. Examples are being older than 55 or African American, or having a family history of stroke. You can take action for any of the following risk factors:
A personal history of transient ischemic attack (TIA)
Diabetes or high cholesterol
Atrial fibrillation, high blood pressure, or heart disease
Smoking cigarettes, drinking alcohol, or using drugs such as cocaine
Obesity or not enough physical activity
Taking birth control pills, especially in women older than 35 who smoke cigarettes
Medicines to help prevent a stroke
depend on your stroke risk factors. Your healthcare provider may recommend any of the following:
Blood thinners help prevent blood clots. Clots can cause strokes, heart attacks, and death. The following are general safety guidelines to follow while you are taking a blood thinner:

Watch for bleeding and bruising while you take blood thinners. Watch for bleeding from your gums or nose. Watch for blood in your urine and bowel movements. Use a soft washcloth on your skin, and a soft toothbrush to brush your teeth. This can keep your skin and gums from bleeding. If you shave, use an electric shaver. Do not play contact sports.
Tell your dentist and other healthcare providers that you take a blood thinner. Wear a bracelet or necklace that says you take this medicine.
Do not start or stop any other medicines unless your healthcare provider tells you to. Many medicines cannot be used with blood thinners.
Take your blood thinner exactly as prescribed by your healthcare provider. Do not skip does or take less than prescribed. Tell your provider right away if you forget to take your blood thinner, or if you take too much.
Warfarin is a blood thinner that you may need to take. The following are things you should be aware of if you take warfarin:

Foods and medicines can affect the amount of warfarin in your blood. Do not make major changes to your diet while you take warfarin. Warfarin works best when you eat about the same amount of vitamin K every day. Vitamin K is found in green leafy vegetables and certain other foods. Ask for more information about what to eat when you are taking warfarin.
You will need to see your healthcare provider for follow-up visits when you are on warfarin. You will need regular blood tests. These tests are used to decide how much medicine you need.

Blood pressure (BP) medicines may be given to help control hypertension. Antihypertensives can help lower your BP and keep it within your recommended range.
Diuretics help decrease extra fluid that collects in your body. This helps lower your BP.
Medicine may also help lower your cholesterol level. A low cholesterol level helps prevent heart disease and makes it easier to control your blood pressure.
Low-dose aspirin may be recommended to prevent blood clots. Your healthcare provider will tell you if you should take aspirin, and how much to take each day.
Lifestyle changes that can help prevent a stroke: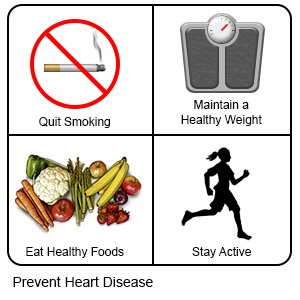 Stay active. Aim to get physical activity for 30 minutes a day, on most days of the week. You can break activity into 10 minute periods, 3 times during the day. Activity can lower your risk for problems that can lead to a stroke. Activity can control you blood pressure, cholesterol, weight, and blood sugar levels. Find an exercise that you enjoy. This will make it easier for you to reach your exercise goals.
Limit sodium (salt) as directed. Too much sodium can affect your fluid balance. Check labels to find low-sodium or no-salt-added foods. Some low-sodium foods use potassium salts for flavor. Too much potassium can also cause health problems. Your healthcare provider will tell you how much sodium and potassium are safe for you to have in a day. He or she may recommend that you limit sodium to 2,300 mg a day.
Follow the meal plan recommended by your healthcare provider. A dietitian or your provider can give you more information on low-sodium plans or the DASH (Dietary Approaches to Stop Hypertension) eating plan. The DASH plan is low in sodium, processed sugar, unhealthy fats, and total fat. It is high in potassium, calcium, and fiber. These can be found in vegetables, fruit, and whole-grain foods.
Maintain a healthy weight. Being overweight or obese can increase your risk for a stroke. Ask your healthcare provider what a healthy weight is for you. Ask him or her to help you create a weight loss plan if you are overweight. He or she can help you create small goals if you have a lot of weight to lose.
Talk to your healthcare provider about alcohol. Alcohol can raise your blood pressure. The recommended limit is 2 drinks in a day for men and 1 drink in a day for women. Do not binge drink or save a week's worth of alcohol to drink in 1 or 2 days. Limit weekly amounts as directed by your provider.
Do not smoke. Nicotine and other chemicals in cigarettes and cigars can cause lung and heart damage. Heart and lung damage can increase your risk for a stroke. Ask your healthcare provider for information if you currently smoke and need help to quit. E-cigarettes or smokeless tobacco still contain nicotine. Talk to your healthcare provider before you use these products.
Do not use illegal drugs. Cocaine and other illegal drugs can cause a stroke. Talk to your healthcare provider if you currently use illegal drugs and need help to quit.
Manage stress. Stress can raise your blood pressure. Find ways to relax, such as deep breathing or listening to music.
Manage health conditions that can lead to a stroke:
Manage your blood pressure (BP):

Get regular BP screening. Screening can help find high BP early to lower your risk for a stroke. Your healthcare provider will give you directions to lower and control your BP.
Check your BP as directed. You can monitor your blood pressure at home. Ask your healthcare provider how often to check your blood pressure and what your blood pressure should be. Tell your healthcare provider if your blood pressure is higher than what he or she says it should be. He or she may need to change your medicine or help you make changes to your nutrition or exercise plan.

Manage diabetes. Good control of your blood sugar levels may decrease your risk for a stroke. If you take diabetes medicine or insulin, take it as directed. Healthy foods and regular exercise also help lower your blood sugar levels. Monitor your levels as directed. Keep a record of your blood sugar levels and bring them to your appointments. This will help your healthcare provider make changes to your medicines. It may also help you find ways to get better control of your diabetes.
Manage sleep apnea. Sleep apnea can cause stroke risk factors, such as high blood pressure, heart failure, or heart rhythm problems. Get screened and treated for sleep apnea. Talk to your healthcare provider about devices that help prevent complications from sleep apnea. You may need to use a CPAP or BiPAP machine while you sleep. These machines increase your oxygen levels and keep your airway open.
Manage other medical conditions that increase your risk for a stroke. Atrial fibrillation (a-fib) is an abnormal heart rhythm that can cause blood clots. Medicines or procedures may be used to control a-fib. Patent foramen ovale (PFO) can also lead to a stroke. Your healthcare provider may recommend you have surgery to close a PFO, if needed. Sickle cell disease, or sickle cell anemia, can cause blockages in blood vessels. The blockages may need to be removed during surgery. Depression and anxiety can stress your heart. Stress may lead to high blood pressure or heart disease. Talk to your healthcare provider about treatment for depression or anxiety.
Talk to your healthcare provider about risk factors for women. Birth control pills increase your risk, especially if you are older than 35 or smoke cigarettes. Talk to your healthcare provider about other forms of contraception. Estrogen levels drop during menopause. Low estrogen levels may increase your risk for stroke. Talk to your healthcare provider about hormone replacement therapy to reduce your risk for a stroke.
Follow up with your doctor or neurologist as directed:
You may need a CT or MRI of your brain to check for problems that may cause a stroke. Write down your questions so you remember to ask them during your visits.
© Copyright IBM Corporation 2022 Information is for End User's use only and may not be sold, redistributed or otherwise used for commercial purposes. All illustrations and images included in CareNotes® are the copyrighted property of A.D.A.M., Inc. or IBM Watson Health
The above information is an educational aid only. It is not intended as medical advice for individual conditions or treatments. Talk to your doctor, nurse or pharmacist before following any medical regimen to see if it is safe and effective for you.
Further information
Always consult your healthcare provider to ensure the information displayed on this page applies to your personal circumstances.