P.r.i.c.e. Treatment
Medically reviewed by Drugs.com. Last updated on Jan 5, 2023.
What is P.R.I.C.E. treatment?
P.R.I.C.E. treatment is a 5-step process used to decrease swelling and pain caused by an injury. P.R.I.C.E. stands for protect, rest, ice, compress, and elevate. Start P.R.I.C.E. within 24 to 48 hours of an injury.
How do I use P.R.I.C.E. treatment?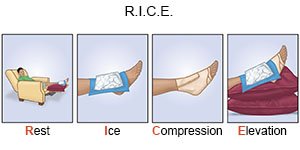 Protect your injury from more damage. Support the injured area with a brace or splint. Your healthcare provider will tell you how long to use the brace or splint.
Rest your injured area as directed. You may need to stop using, or keep weight off, the injury for 48 hours or longer. Your healthcare provider may recommend crutches or another device. Return to your usual activities as directed.
Apply ice on your injured area for 15 to 20 minutes every 4 hours or as directed. Use an ice pack, or put crushed ice in a plastic bag. Cover the bag with a towel before you apply it to your skin. Ice helps prevent tissue damage and decreases swelling and pain.
Compress (keep pressure on) the injured area. Compression will help decrease swelling and support the injured area. Use an elastic bandage, air stirrup, splint, or sling as directed. If you use an elastic bandage, make sure the bandage is not too tight. You should be able to slip 2 fingers between the bandage and your skin.
Elevate the injured area above the level of your heart as often as you can. This will help decrease swelling and pain. Prop the injured area on pillows or blankets to keep it elevated comfortably.
When should I seek immediate care?
Your pain is severe.
You have severe swelling or deformity.
You have numbness in the injured area.
When should I call my doctor?
Your pain and swelling do not go away after a few days.
You have questions or concerns about your condition or care.
Care Agreement
You have the right to help plan your care. Learn about your health condition and how it may be treated. Discuss treatment options with your healthcare providers to decide what care you want to receive. You always have the right to refuse treatment. The above information is an educational aid only. It is not intended as medical advice for individual conditions or treatments. Talk to your doctor, nurse or pharmacist before following any medical regimen to see if it is safe and effective for you.
© Copyright Merative 2022 Information is for End User's use only and may not be sold, redistributed or otherwise used for commercial purposes.
Further information
Always consult your healthcare provider to ensure the information displayed on this page applies to your personal circumstances.