HIV Transmission
Medically reviewed by Drugs.com. Last updated on Mar 5, 2023.
AMBULATORY CARE:
HIV
(human immunodeficiency virus) is an infection that slowly weakens your immune system. Over time, a weak immune system makes it difficult for you to fight infections. Common signs and symptoms of HIV infection include chronic diarrhea, weight loss without trying, and skin rashes or lesions. It is important to take safety precautions to prevent the transmission (spread) of HIV.
Call your local emergency number (911 in the US) if:
You have shortness of breath.
You have chest pain.
You are so depressed you feel you cannot cope any longer.
You have problems seeing.
You are so weak that you cannot stand up.
Seek immediate care if:
You have a severe headache or a stiff neck.
You have problems with balance, walking, or speech.
You have weakness in an arm or leg.
You are not able to drink liquids.
You have white spots or sores in your mouth, throat, vagina, or rectum.
You have a cough, shortness of breath, or chest tightness.
You cannot think clearly.
Call your doctor if:
You are having side effects from your medicines that make you want to stop taking them.
You have a fever, chills, or night sweats.
You have swollen lymph nodes in your neck, jaw, armpit, or groin.
You are more tired than usual.
You have diarrhea that does not get better.
You have lost more than 10 pounds in a short period of time.
You bruise or bleed easily.
You notice changes in your monthly period.
You have questions or concerns about your condition or care.
How HIV is spread:
Many people who are infected with HIV do not know they are infected. This is because the virus can live in your body for years before you develop symptoms. The following are common ways HIV may be spread:
Contact with blood or certain body fluids (sperm or vaginal fluids) of an infected person
Sex with an infected person, especially in men who have sex with men
Injecting drugs with needles or other equipment used by an infected person
From an infected mother to her baby before or during birth or through breast milk
What is not true about how HIV is spread:
Many beliefs about how HIV is spread are false. HIV is not spread by any of the following:
Contact with toilet seats, clothes, or sheets
Mosquito or other insect bites
Sharing food, plates, cups, or silverware
Skin contact with a person who has HIV
Sneezing or coughing
Swimming in public pools
Prevent the spread of HIV through body fluid:
Seek care immediately if you think you may have been exposed to HIV. Drug treatments are available after exposure to HIV.
Have safe sex. Ask your sex partners if they are HIV-positive, or tell them that you are. Use a latex condom correctly each time you have vaginal, anal, or oral sex. Women may use latex female condoms when a male condom cannot be used. Do not share sex toys.
Get screened for HIV. Everyone aged 13 to 64 years should be screened for HIV at least once. Men who have sex with men should be screened every year.
Tell healthcare providers if you are HIV-positive. Include all healthcare providers, such as your doctor, dentist, and anyone taking a blood sample.
Be careful with body fluids. Body fluids of an infected person should never get near the mouth, eyes, anus, or open skin cuts of others. Sores, cuts, blood, or body fluids should not be touched by anyone not wearing gloves.
Do not donate blood or tissue if you are HIV-positive. Do not donate blood or blood products. Do not donate sperm, organs, or body tissues.
Do not share needles or other injectable drug equipment. Use a needle exchange program to get clean needles. Also do not share syringes, rinse water, or anything else used to prepare drugs for injection. Ask your healthcare provider for information if you need help to stop using illegal drugs.
Do not share objects or tools. Examples include razors, toothbrushes, or tweezers. They may cut or scrape the skin and cause others to come into contact with blood.
Do not pierce your ears, navel, or any other place on your body if you are HIV-positive. Piercing can cause bleeding. This may spread HIV.
Other ways to prevent the spread of HIV:
Talk to your healthcare provider about PrEP to lower your risk for HIV infection. Preexposure prophylaxis (PrEP) may be given if tests show you are HIV-negative but your risk for infection is high. PrEP is medicine that can be given to adults and adolescents. It must be taken every day. PrEP is not 100% effective. You will still need to take precautions to prevent an infection. Use a latex condom or female condom during sex. Do not share needles if you inject drugs.
Take every dose of HAART medicines exactly as directed if you are HIV-positive. This will prevent the virus from mutating and becoming much harder to treat. Consistent use of HAART medicines may help prevent the spread of HIV to a sex partner or an unborn baby.
Join a risk reduction program if you are HIV-positive. Ask your healthcare provider or local health department to help you find a risk reduction program. This program will teach you how to tell others that you have HIV and ask sexual partners to use condoms.
Treat sexually transmitted infections (STIs) right away. If you are sexually active, get tested for STIs at least 1 time each year. If you become infected with an STI, treat it right away. This may help reduce the risk that you will give HIV to a sex partner.
Prevent the spread of germs: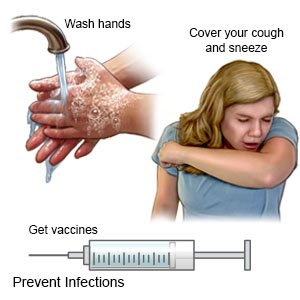 Wash your hands often. Wash your hands several times each day. Wash after you use the bathroom, change a child's diaper, and before you prepare or eat food. Use soap and water every time. Rub your soapy hands together, lacing your fingers. Wash the front and back of your hands, and in between your fingers. Use the fingers of one hand to scrub under the fingernails of the other hand. Wash for at least 20 seconds. Rinse with warm, running water for several seconds. Then dry your hands with a clean towel or paper towel. Use hand sanitizer that contains alcohol if soap and water are not available. Do not touch your eyes, nose, or mouth without washing your hands first.
Cover a sneeze or cough. Use a tissue that covers your mouth and nose. Throw the tissue away in a trash can right away. Use the bend of your arm if a tissue is not available. Wash your hands well with soap and water or use a hand sanitizer.
Stay away from others when you have active signs or symptoms. Avoid crowds as much as possible.
Ask about vaccines you may need. Talk to your healthcare provider about your vaccine history. He or she will tell you which vaccines you need, and when to get them. Vaccines can help keep your immune system healthy by preventing infections.

Get the influenza (flu) vaccine as soon as recommended each year. The flu vaccine is available starting in September or October. Flu viruses change, so it is important to get a flu vaccine every year.
Get the pneumonia vaccine if recommended. This vaccine is usually recommended every 5 years. Your provider will tell you when to get this vaccine, if needed.
Follow up with your doctor as directed:
It is important to follow up with healthcare providers to reduce the risk of an HIV infection. You may need tests at 6 weeks, 3 months, 6 months, and 12 months after the exposure. Write down your questions so you remember to ask them during your visits.
© Copyright Merative 2023 Information is for End User's use only and may not be sold, redistributed or otherwise used for commercial purposes.
The above information is an educational aid only. It is not intended as medical advice for individual conditions or treatments. Talk to your doctor, nurse or pharmacist before following any medical regimen to see if it is safe and effective for you.
Learn more about HIV Transmission
Care guides
Further information
Always consult your healthcare provider to ensure the information displayed on this page applies to your personal circumstances.