Histoplasmosis in Children
Medically reviewed by Drugs.com. Last updated on Dec 2, 2022.
What is histoplasmosis?
Histoplasmosis is a fungal infection of your child's lungs. It is caused by breathing in soil that is infected with fungus. The fungus is most common in soil that contains bird and bat droppings.
What increases my risk for histoplasmosis?
Your child is at risk for histoplasmosis if he or she has a condition that weakens the immune system. Your child may be at risk for histoplasmosis if he or she lives in an area where the fungus is common. This includes the Ohio, Mississippi, and Missouri river valleys. Your child's risk for histoplasmosis may also increase if he or she plays in soil near chicken coops or bird nests.
What are the signs and symptoms of histoplasmosis?
Most children do not have signs or symptoms. A mild infection may cause fever, chills, muscle aches, or fatigue. Your child may also have headaches, chest pain, and a dry cough. Symptoms may last 2 weeks to 4 weeks. A severe infection may cause any of the following:
A cough with bloody or thick yellow sputum
Night sweats
Shortness of breath
A rash
Weight loss or poor feeding in infants
How is histoplasmosis diagnosed?
Blood and urine tests will show if your child has a histoplasmosis infection. Blood tests may also be done to check your child's blood cell levels and get information about his or her overall health.
A sputum sample may be collected and tested for the germ that is causing your illness.
How is histoplasmosis treated?
Most children do not need treatment for histoplasmosis. Your child may need medicine to decrease fever, pain, or swelling. Your child may need antifungal medicine if the infection is serious or he or she has a weak immune system. If your child's infection is severe he or she may need monitoring and treatment in the hospital.
Treatment options
The following list of medications are in some way related to or used in the treatment of this condition.
What are the risks of histoplasmosis?
Histoplasmosis may be more serious in children less than 1 year. The infection may cause serious breathing problems. It may also spread to other places in your child's body.
How do I prevent another histoplasmosis infection?
Keep your child away from places where the fungus grows. This includes caves, barns, chicken coops, and under bridges. It also includes chimneys and attics. If your child has a weak immune system, he or she may need to take antifungal medicine to prevent another infection.
What can I do to prevent the spread of germs?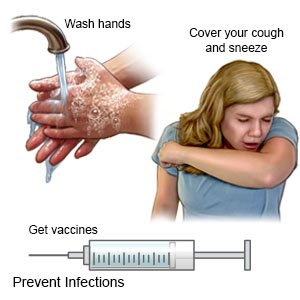 Keep your child away from other people while he or she is sick. This is especially important during the first 3 to 5 days of illness.
Have your child wash his or her hands often. He or she should wash after using the bathroom and before preparing or eating food. Have your child use soap and water. Show him or her how to rub soapy hands together, lacing the fingers. Wash the front and back of the hands, and in between the fingers. The fingers of one hand can scrub under the fingernails of the other hand. Teach your child to wash for at least 20 seconds. Use a timer, or sing a song that is at least 20 seconds. An example is the happy birthday song 2 times. Have your child rinse with warm, running water for several seconds. Then dry with a clean towel or paper towel. Your older child can use hand sanitizer with alcohol if soap and water are not available.
Remind your child to cover a sneeze or cough. Show your child how to use a tissue to cover his or her mouth and nose. Have your child throw the tissue away in a trash can right away. Then your child should wash his or her hands well or use a hand sanitizer. Show your child how to use the bend of his or her arm if a tissue is not available.
Tell your child not to share items. Examples include toys, drinks, and food.
Ask about vaccines your child needs. Vaccines help prevent some infections that cause disease. Have your child get a yearly flu vaccine as soon as recommended, usually in September or October. Your child's healthcare provider can tell you other vaccines your child should get, and when to get them.
Call your local emergency number (911 in the US) if:
Your child has a seizure.
Your child has trouble breathing.
When should I seek immediate care?
Your child is confused.
Your child coughs up blood or thick, yellow, sputum.
Your child's heart is beating faster than usual.
Your child has a severe headache and a stiff neck.
When should I call my child's doctor?
Your child's symptoms get worse or do not get better in 2 weeks.
Your child has a rash.
You have questions or concerns about your child's condition or care.
Care Agreement
You have the right to help plan your child's care. Learn about your child's health condition and how it may be treated. Discuss treatment options with your child's healthcare providers to decide what care you want for your child. The above information is an educational aid only. It is not intended as medical advice for individual conditions or treatments. Talk to your doctor, nurse or pharmacist before following any medical regimen to see if it is safe and effective for you.
© Copyright Merative 2022 Information is for End User's use only and may not be sold, redistributed or otherwise used for commercial purposes.
Learn more about Histoplasmosis
Treatment options
Medicine.com guides (external)
Further information
Always consult your healthcare provider to ensure the information displayed on this page applies to your personal circumstances.