Face Coverings (Masks) and Covid-19
Medically reviewed by Drugs.com. Last updated on Aug 31, 2022.
A face covering is recommended when you are in public, such as grocery stores, pharmacies, and on mass transit. You may live in an area that has a face covering mandate. This means you must wear a covering in public. Check the laws in your area before you leave your home. Bring extra coverings with you. The virus that causes COVID-19 can spread by people who have no symptoms. The covering helps reduce the chances of the virus spreading in droplets from talking, sneezing, and coughing. A face covering also helps protect the person wearing it from becoming infected. Homemade face coverings will save medical masks for healthcare workers and first responders. You can instead use a disposable non-medical mask. These are available at drug stores and may be available at other stores.
DISCHARGE INSTRUCTIONS:
Call your local emergency number (911 in the US) if:
You have trouble breathing or shortness of breath at rest.
You have chest pain or pressure that lasts longer than 5 minutes.
You become confused or hard to wake.
Your lips or face are blue.
You have a fever of 104°F (40°C) or higher.
Call your doctor if:
Do not go to your doctor's office or hospital. Call your doctor first if:
You had close physical contact within the last 14 days with someone who has a confirmed infection.
You have questions or concerns about your condition or care.
Make a face covering with thick cloth:
You or someone you know can sew a face covering. You can use a bandana, a scarf, a tee-shirt, or a hand towel. Choose a fabric that will keep its shape and size after it is washed and dried. The fabric should be tightly knit. Hold it up to a light. You should not be able to see the light through the fabric. You will also need 2 rubber bands or 2 hair ties or ponytail holders. The following is a way to make a face covering without sewing:
Wash and dry items to be used.
Check that you can breathe through the fabric.
Place the fabric on a flat surface.
Fold the top of the fabric down, toward the middle.
Fold the bottom of the fabric up, toward the middle.
Fold the top down again.
Fold the bottom up again.
Place rubber bands or holders over each side of the fabric.
Fold each side in, toward the middle.
Place the covering up to your nose and mouth.
Loop the rubber bands around your ears.
Adjust the fabric to cover your nose and mouth completely.
What you need to know about your face coverings: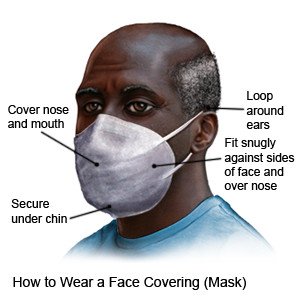 Experts recommend layers to provide extra protection. One way to do this is to choose a fabric that has several layers. Another way is to wear a cloth covering over a disposable non-medical mask. Fit the disposable mask tightly against your face at the sides, under your chin, and over your nose. Then put the cloth covering over it.
Do not use face coverings that have breathing valves or vents. Valves or vents on the sides are designed to allow breathed air to go out. This makes breathing easier, but the virus can travel out of the valve or vent and be spread to others.
Make sure the covering fits firmly against your face. If you wear glasses, look for coverings that have a wire across the nose area. You can push the wire firmly to shape it across your nose. This will also help prevent your glasses from fogging up.
Do not touch your face covering or eyes while you are out. The virus can live on surfaces. Wash your hands with soap and water for 20 seconds or use hand sanitizer before you remove your face covering.
Do not remove your face covering to talk, sneeze, or cough. Your face covering will help protect you and others around you.
Wash face coverings often. Wash them in a washing machine in the warmest water the fabric allows. Make sure the fabric is completely dry before using it. Only wear clean coverings when you go out.
Store face coverings safely. Face coverings that have not been used can be stored in a paper bag or mesh bag. Used, wet, or dirty cloth face coverings should be kept in a plastic bag that has a seal. Keep the bag sealed except to add more coverings until you are ready to wash them. Throw used disposable non-medical masks away in a lined trash can that has a lid. Wash your hands after you handle any used covering.
Do not use a plastic face shield instead of a cloth covering. A face shield will not protect others from droplets. If a face shield must be used, choose one that wraps around both sides of the face and goes below the chin. You can use a face shield and a face covering together for extra protection. Do not use disposable shields more than 1 time. Shields that can be used again need to be cleaned and disinfected between uses. Do not put a face shield or a cloth covering on a newborn or infant. These increase the risk for sudden infant death syndrome (SIDS).
If a face covering cannot be used some or all of the time:
Use a clear face covering if others need to read your lips. A clear covering may be helpful if you communicate with someone who is deaf or hard of hearing. A clear covering is made of cloth but has plastic over the mouth area. This will help the person see your lips more easily. If you must use a plastic face shield, make sure it wraps around your face and goes below your chin. Clean and disinfect reusable shields after each use. Follow the manufacturer's instructions for cleaning and disinfecting.
Talk to a healthcare provider if a covering cannot be worn. For example, a person who has a sensory or tactile disorder may have a bad reaction to wearing a cloth covering. Ask the provider what to do if a covering cannot be used. It will be highly important to keep at least 6 feet (2 meters) away from others if a covering cannot be worn.
Talk to your employer if you are concerned about wearing a covering at work. A face covering should not cause you to get too hot or have breathing problems. It should not be able to get caught in any machines you work with. If you work outdoors, it may be okay to leave the covering off when you are not near others. Keep your covering handy so you can put in on when you are around others. Follow all rules provided by your employer. You will need to wear a covering when you are in a group setting. Examples include a break room and meetings where social distancing is not possible. You will also need to wear a covering if you must work right next to others. If you are told to use a medical mask or respirator, do not wear a cloth face covering instead.
Help your child know when to wear a face covering. Your child may have a hard time wearing a face covering all day. Help your child think of times when he or she needs to wear it. Examples include riding in a school bus or waiting in lines. Your child may not need to wear a covering during outdoor recess or while at a park or playground. He or she will still need to stay at least 6 feet (2 meters) away from others. Your child's school, park, or playground may have rules for face coverings. Make sure your child knows and understands the rules. Remind him or her of the rules often.
Do not wear a face covering anywhere it can get wet. Examples include swimming pools, lakes, ponds, and rivers. You may not be able to breathe through a wet face covering. It is important to keep at least 6 feet (2 meters) between you and others in the water with you. Teach your child not to swim right next to others. This can be hard to do in swimming pools and places such as small ponds. It will be safest not to go into the water if distance from others is not easily possible.
Try to exercise outdoors or in a facility with good ventilation. You may not be able to wear a face covering while you exercise. You may not be able to breathe well through a covering if you are doing certain activities. If you are outdoors and not near others, it is okay to take your covering off. Keep it handy so you can put it on when you are near others. If you need to exercise indoors, it is best to find a building with good ventilation. You can keep the covering off while you have at least 6 feet (2 meters) between you and others.
For more information:
Centers for Disease Control and Prevention
1600 Clifton Road
Atlanta , GA 30333
Phone: 1- 800 - 232-4636
Web Address: http://www.cdc.gov

© Copyright IBM Corporation 2022 Information is for End User's use only and may not be sold, redistributed or otherwise used for commercial purposes. All illustrations and images included in CareNotes® are the copyrighted property of A.D.A.M., Inc. or IBM Watson Health
The above information is an educational aid only. It is not intended as medical advice for individual conditions or treatments. Talk to your doctor, nurse or pharmacist before following any medical regimen to see if it is safe and effective for you.
Further information
Always consult your healthcare provider to ensure the information displayed on this page applies to your personal circumstances.