Endocarditis in Children
Medically reviewed by Drugs.com. Last updated on Jun 6, 2023.
What is endocarditis?
Endocarditis is an infection of the inner lining of your child's heart. It may also affect the valves in his or her heart.
What causes endocarditis?
A child born with certain heart problems has an increased risk for endocarditis. Endocarditis is most often caused by a bacterial infection. It may also be caused by viral, fungal, or parasitic infections. Bacteria or other germs may enter your child's bloodstream and get to his or her heart in the following ways:
Heart surgery such as a valve replacement
Dental procedures
Long-term urinary or IV catheters
Implanted devices such as a ventricular-atrial shunt or defibrillator
What are the signs and symptoms of endocarditis?
Fever and chills
Cough or shortness of breath
Headaches, body aches, or joint pain
A fast or pounding heartbeat
Swelling in the legs, feet, or ankles
Chest or abdominal pain
Poor appetite
A rash
How is endocarditis diagnosed?
Your healthcare provider will examine your child and ask about his or her symptoms. Tell him or her if your child has any medical conditions or takes any medicines. Your child may need any of the following:
Blood and urine tests are used to check for infection.
An EKG records your child's heart rhythm and how fast his or her heart beats. It is used to check for heart problems.
An echocardiogram is a type of ultrasound that checks for infection in your child's heart. Sound waves are used to show the structure and function of your child's heart. Your child may need a transthoracic or transesophageal echocardiogram. Ask your child's healthcare provider about these types of echocardiograms.
How is endocarditis treated?
Your child will need monitoring and treatment in the hospital. Medicine will be given to treat the infection. Medicine may be given to manage heart problems caused by endocarditis. These may include medicines to decrease stress on his or her heart or strengthen his or her heart. Surgery may be needed to repair or replace a damaged heart valve. Procedures may also be needed to remove an infected IV catheter or implanted device.
Treatment options
The following list of medications are in some way related to or used in the treatment of this condition.
What can I do to care for my child?
Have your child rest as directed. Some activities may put too much stress on your child's heart. Ask his or her healthcare provider which activities are safe for him or her to do. Also ask when he or she can return to his or her normal activities.
Do not let your older child smoke. Do not smoke near your child. Keep your child away from others who smoke. Nicotine and other chemicals in cigarettes and cigars can make it hard to heal from endocarditis. These substances can also increase your child's risk for damage to his or her heart valves. Ask your child's healthcare provider for information if you or your child currently smokes and need help to quit. E-cigarettes or smokeless tobacco still contain nicotine. Talk to your child's healthcare provider before he or she uses these products.
Care for your child's intravenous (IV) catheter. Your child may go home with an IV catheter. This catheter can be used to give him or her IV antibiotic medicine at home. A home health nurse may give him or her the IV medicine or may teach you how to give the medicine. Ask his or her healthcare provider for information on how to care for his or her IV catheter.
How can I help prevent endocarditis in my child?
Keep your child's teeth and gums healthy. Have your child brush his or her teeth 2 to 3 times every day. It is best to brush his or her teeth after meals. Gently brush his or her teeth and gums with a clean toothbrush that has soft bristles. Take your child to the dentist every 6 months. Tell your child's dentist that he or she has had endocarditis.
Ask your child's healthcare provider if he or she should take antibiotics before procedures. Some procedures may cause bacteria to get into your child's blood and travel to his or her heart. He or she may need antibiotic medicine before a procedure to prevent this.
Carry a wallet card that says your child is at risk for endocarditis: This card will alert healthcare providers that your child is at risk for endocarditis. It will also help them decide if he or she needs antibiotics before a procedure or in an emergency. You can get this card through the American Heart Association.

American Heart Association
7272 Greenville Avenue
Dallas , TX 75231-4596
Phone: 1- 800 - 242-8721
Web Address: http://www.heart.org

How can I help prevent the spread of germs: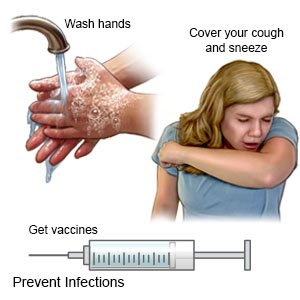 Keep your child away from other people while he or she is sick. This is especially important during the first 3 to 5 days of illness.
Have your child wash his or her hands often. He or she should wash after using the bathroom and before preparing or eating food. Have your child use soap and water. Show him or her how to rub soapy hands together, lacing the fingers. Wash the front and back of the hands, and in between the fingers. The fingers of one hand can scrub under the fingernails of the other hand. Teach your child to wash for at least 20 seconds. Use a timer, or sing a song that is at least 20 seconds. An example is the happy birthday song 2 times. Have your child rinse with warm, running water for several seconds. Then dry with a clean towel or paper towel. Your older child can use hand sanitizer with alcohol if soap and water are not available.
Remind your child to cover a sneeze or cough. Show your child how to use a tissue to cover his or her mouth and nose. Have your child throw the tissue away in a trash can right away. Then your child should wash his or her hands well or use a hand sanitizer. Show your child how to use the bend of his or her arm if a tissue is not available.
Tell your child not to share items. Examples include toys, drinks, and food.
Ask about vaccines your child needs. Vaccines help prevent some infections that cause disease. Have your child get a yearly flu vaccine as soon as recommended, usually starting in September or October. Your child's healthcare provider can tell you other vaccines your child should get, and when to get them.
Call your local emergency number (911 in the US) if:
Your child has a seizure.
Your child has a bad headache, vomiting, or a fever.
Your child has sudden weakness in an arm or leg, or trouble walking.
Your child has sudden trouble speaking.
Your child suddenly cannot use one side of his or her body.
Your child has severe chest pain.
Your child has sudden trouble breathing or shortness of breath while lying down.
Your child's heart is beating faster than usual.
Your child loses consciousness or cannot be woken.
When should I seek immediate care?
Your child has new or increased swelling in his or her feet or ankles.
Your child feels dizzy or faints.
When should I call my child's doctor?
Your child has a fever.
Your child will not eat or has a poor appetite.
Your child is weak.
You have questions or concerns about your child's condition or care.
Care Agreement
You have the right to help plan your child's care. Learn about your child's health condition and how it may be treated. Discuss treatment options with your child's healthcare providers to decide what care you want for your child. The above information is an educational aid only. It is not intended as medical advice for individual conditions or treatments. Talk to your doctor, nurse or pharmacist before following any medical regimen to see if it is safe and effective for you.
© Copyright Merative 2023 Information is for End User's use only and may not be sold, redistributed or otherwise used for commercial purposes.
Learn more about Endocarditis
Treatment options
Care guides
Symptoms and treatments
Further information
Always consult your healthcare provider to ensure the information displayed on this page applies to your personal circumstances.