Diphtheria in Children
Medically reviewed by Drugs.com. Last updated on Nov 5, 2023.
What is diphtheria?
Diphtheria is a disease caused by a bacterial infection. The infection spreads quickly from person to person through sneezing or coughing. It can also be passed if a person uses a drinking glass or other item used by an infected person. The bacteria that cause diphtheria get into your child's nose, throat, and airway and produce a toxin. The toxin can block these passages or cause pneumonia. The toxin can also spread through your child's bloodstream and cause life-threatening damage to his or her heart or kidneys. It can also cause nerve damage that leads to paralysis.
What are the signs and symptoms of diphtheria?
Any of the following can develop 2 to 5 days after your child is infected:
Sore throat, swollen neck glands, a cough, or hoarseness
A thick, gray or black coating in your child's nose, throat, and airway
Trouble breathing or swallowing from the coating that forms in your child's airway
Weakness, fatigue, or a fever
Discharge from your child's nose that may contain blood or smell foul
A skin ulcer covered with a gray membrane that does not heal
Nausea and vomiting
How is diphtheria diagnosed and treated?
Your healthcare provider will look in your child's nose and throat. He or she may see the diphtheria coating, but it may not be present. Your provider will take samples from your child's nose and throat to be tested. A diphtheria infection is treated in the hospital. Your child will receive medicine to stop the diphtheria toxin. An antibiotic will be used to kill the bacteria that cause diphtheria. Your child's healthcare provider may also give him or her a dose of the diphtheria vaccine.
What can I do to help my child prevent the spread of diphtheria?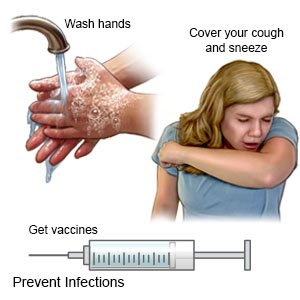 Help your child protect others from diphtheria. If your child is infected, he or she may infect others for up to 4 weeks. Take precautions, even if your child does not have symptoms of diphtheria. Keep your child home from school or daycare until your provider says it is okay to return. Do not let anyone use your child's drinking cup. Everyone who lives with your child will need to see his or her healthcare provider. The provider will do a throat swab to check for infection. The provider will also ask about the person's vaccine history. A booster shot may be given. Antibiotics may also be given, even if the person does not have symptoms.
Have your child wash his or her hands often. He or she should wash after using the bathroom and before preparing or eating food. Have your child use soap and water. Show him or her how to rub soapy hands together, lacing the fingers. Wash the front and back of the hands, and in between the fingers. The fingers of one hand can scrub under the fingernails of the other hand. Teach your child to wash for at least 20 seconds. Use a timer, or sing a song that is at least 20 seconds. An example is the happy birthday song 2 times. Have your child rinse with warm, running water for several seconds. Then dry with a clean towel or paper towel. Your older child can use hand sanitizer that contains alcohol if soap and water are not available.
Remind your child to cover a sneeze or cough. Show your child how to use a tissue to cover his or her mouth and nose. Have your child throw the tissue away in a trash can right away. Then your child should wash his or her hands well or use a hand sanitizer. Show your child how to use the bend of his or her arm if a tissue is not available.
Clean surfaces often. Clean doorknobs, countertops, cell phones, and other surfaces that are touched often. Use a disinfecting wipe, a single-use sponge, or a cloth you can wash and reuse. Use disinfecting cleaners if you do not have wipes. You can create a disinfecting cleaner by mixing 1 part bleach with 10 parts water.
Talk to your child's healthcare provider about vaccines. A diphtheria infection may not make your child immune from another infection. The DTaP, Tdap, and Td vaccines help protect against diphtheria. Your child's provider can help you create a schedule so you know when to bring your child in. If your adolescent is pregnant, she should receive 1 dose of Tdap during weeks 27 to 36.
Treatment options
The following list of medications are in some way related to or used in the treatment of this condition.
Call your local emergency number (911 in the US) if:
Your child has severe trouble breathing.
Call your child's doctor if:
Your child has new or worsening trouble breathing or swallowing.
Your child's heartbeat is very fast or not regular.
Your child needs a diphtheria booster shot.
You have questions or concerns about your child's condition or care.
Care Agreement
You have the right to help plan your child's care. Learn about your child's health condition and how it may be treated. Discuss treatment options with your child's healthcare providers to decide what care you want for your child. The above information is an educational aid only. It is not intended as medical advice for individual conditions or treatments. Talk to your doctor, nurse or pharmacist before following any medical regimen to see if it is safe and effective for you.
© Copyright Merative 2023 Information is for End User's use only and may not be sold, redistributed or otherwise used for commercial purposes.
Learn more about Diphtheria
Treatment options
Further information
Always consult your healthcare provider to ensure the information displayed on this page applies to your personal circumstances.