Corrosive Esophagitis in Children
Medically reviewed by Drugs.com. Last updated on Jul 4, 2022.
Corrosive esophagitis is damage to your child's esophagus from harmful substances. The damage may cause inflammation, ulcers, or scarring.
DISCHARGE INSTRUCTIONS:
Seek care immediately if:
Your child feels like food or medicine is stuck and does not go down with water.
Your child's vomit has blood in it or looks like coffee grounds.
Your child has black or bloody bowel movements.
Your child's symptoms are getting worse.
Call your child's doctor if:
Your child has a fever.
Your child has pain that does not get better or go away after he or she takes pain medicine.
Your child vomits and cannot keep food or liquids down.
Your child's stomach feels very full, and he or she cannot burp or vomit.
You have questions or concerns about your child's condition or care.
Medicines:
Your child may need any of the following:
Antibiotics help treat or prevent a bacterial infection in your child's esophagus.
Steroids help decrease inflammation.
Stomach acid medicine helps decrease irritation from stomach acids.
Antiulcer medicine helps decrease irritation from stomach acids. They may help increase the protective lining of the esophagus to help it heal.
Give your child's medicine as directed. Contact your child's healthcare provider if you think the medicine is not working as expected. Tell him or her if your child is allergic to any medicine. Keep a current list of the medicines, vitamins, and herbs your child takes. Include the amounts, and when, how, and why they are taken. Bring the list or the medicines in their containers to follow-up visits. Carry your child's medicine list with you in case of an emergency.
Nutrition to help your child's esophagus heal:
Your child may need to eat foods that are soft and easy to swallow. Some examples are applesauce, bananas, cooked cereal, cottage cheese, eggs, and yogurt.
Help your child prevent corrosive esophagitis:
Have your child sit or stand when he or she takes medicine. Do not let your child lie down after he or she takes pills. He or she should stay in an upright position for 10 to 15 minutes.
Ask for other ways to give your child's medicine. If your child has a narrow esophagus, ask if you can give his or her medicine in liquid form. Ask if you can crush the pill and mix it with liquid to drink. If your child must swallow pills, make sure he or she swallows them 1 at a time. He or she should take each pill with at least 4 ounces of liquid.
Store harmful chemicals in a safe location. Label bottles with harmful substances, and keep them out of the reach of children. Put a lock or childproof latch on the door of the storage area.
Keep batteries and similar objects out of the reach of children. Babies often put items in their mouths to explore them. Button batteries are easy to swallow and can cause serious damage. Keep the battery covers of electronic devices such as remote controls taped closed. Store all batteries and toxic materials where children cannot get to them. Use childproof locks to keep children away from dangerous materials.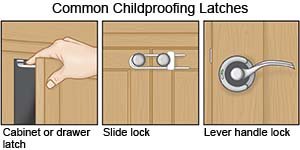 Follow up with your child's doctor as directed:
Your child may need to have another endoscopy to make sure his or her esophagus is healing. Write down your questions so you remember to ask them during your visits.
© Copyright IBM Corporation 2022 Information is for End User's use only and may not be sold, redistributed or otherwise used for commercial purposes. All illustrations and images included in CareNotes® are the copyrighted property of A.D.A.M., Inc. or IBM Watson Health
The above information is an educational aid only. It is not intended as medical advice for individual conditions or treatments. Talk to your doctor, nurse or pharmacist before following any medical regimen to see if it is safe and effective for you.
Further information
Always consult your healthcare provider to ensure the information displayed on this page applies to your personal circumstances.