This material must not be used for commercial purposes, or in any hospital or medical facility. Failure to comply may result in legal action.
Complications of Infection
AMBULATORY CARE:
Complications of infection
can happen if an infection is not diagnosed and treated early. Some infections may have complications even when they are treated early. The infection can spread from one place in your body to the entire body through your bloodstream. Early diagnosis and treatment may prevent complications such as bacteremia, sepsis, and septic shock. These are serious, life-threatening conditions that need immediate treatment.
Possible complications:
Bacteremia is when there is bacteria in the blood. Bacteremia can happen when infections in other parts of the body, such as the lungs, kidneys, or skin, travel to the blood. It can also happen when indwelling catheters, such as a central venous access devices, pacemaker wires, or urinary catheters become infected. A central venous access device is a special IV that is placed in a large vein and left there for an extended period of time.
Sepsis happens when an infection spreads and causes the body to react strongly to the germs. The body's defense system normally releases chemicals to fight off infection at the infected area. In sepsis, chemicals are released throughout the body. The chemicals cause inflammation and can cause clotting in small blood vessels that is difficult to control. Inflammation and clotting decreases blood flow and oxygen to organs. This may cause them to stop working correctly. Sepsis is also called systemic inflammatory response syndrome (SIRS) due to infection.
Septic shock is a severe type of sepsis that happens as sepsis gets worse and causes multiple organs to shut down. The blood pressure drops very low and organs do not get enough blood. This may cause permanent damage to organs.
Signs and symptoms that an infection has become worse:
Fever or very low body temperature with chills and violent shaking
Swelling in the ankles or legs
A change in mental status such as confusion, loss of consciousness, or seizures
A fast or irregular heartbeat
Urinating very little or not at all
Difficulty breathing, dizziness, or weakness
A rash or warm, red skin
Call your local emergency number (911 in the US) or have someone call if:
You have any of the following signs of a heart attack:

Squeezing, pressure, or pain in your chest
You may also have any of the following:

Discomfort or pain in your back, neck, jaw, stomach, or arm
Shortness of breath
Nausea or vomiting
Lightheadedness or a sudden cold sweat

You have a seizure or lose consciousness.
You have trouble breathing.
Your lips or fingernails are blue.
You feel extremely weak and have a hard time moving.
Seek care immediately if:
Your symptoms, such as fever, get worse, even if you are taking medicine to treat the infection.
You have increased swelling in your legs, feet, or abdomen.
You feel weak, dizzy, or faint.
You stop urinating or urinate very little.
Call your doctor if:
You have questions or concerns about your condition or care.
Treatment
may depend on how severe the complications are. You may need monitoring and treatment in the hospital. You may need any of the following:
Removal or change of a catheter may be needed to get rid of the infection.
Medicines may be given to increase your blood pressure and blood flow to your organs. Antibiotics may be given to treat an infection. Medicines may also be given to decrease inflammation, control your blood sugar, prevent stomach ulcers, and prevent blood clots.
Surgery or other procedures may be needed to treat problems causing sepsis or related to the complications of your infection. This may include draining an abscess or removing infected tissue.
Prevent an infection:
The follow can help prevent an infection, or keep an infection from getting worse: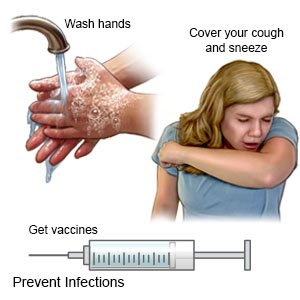 Wash your hands often. Wash your hands several times each day. Wash after you use the bathroom, change a child's diaper, and before you prepare or eat food. Use soap and water every time. Rub your soapy hands together, lacing your fingers. Wash the front and back of your hands, and in between your fingers. Use the fingers of one hand to scrub under the fingernails of the other hand. Wash for at least 20 seconds. Rinse with warm, running water for several seconds. Then dry your hands with a clean towel or paper towel. Use hand sanitizer that contains alcohol if soap and water are not available. Do not touch your eyes, nose, or mouth without washing your hands first.
Cover a sneeze or cough. Use a tissue that covers your mouth and nose. Throw the tissue away in a trash can right away. Use the bend of your arm if a tissue is not available. Wash your hands well with soap and water or use a hand sanitizer.
Clean surfaces often. Clean doorknobs, countertops, cell phones, and other surfaces that are touched often. Use a disinfecting wipe, a single-use sponge, or a cloth you can wash and reuse. Use disinfecting cleaners if you do not have wipes. You can create a disinfecting cleaner by mixing 1 part bleach with 10 parts water.
Ask about vaccines you may need. Vaccines help prevent infection from some viruses and bacteria. Get the influenza (flu) vaccine as soon as recommended each year. The flu vaccine is usually available starting in September or October. Flu viruses change, so it is important to get a flu vaccine every year. Get the pneumonia vaccine if recommended. This vaccine is usually recommended every 5 years. Your provider will tell you when to get this vaccine, if needed. Your healthcare provider can tell you if you should get other vaccines, and when to get them.
Follow up with your doctor as directed:
Write down your questions so you remember to ask them during your visits.
© Copyright IBM Corporation 2021 Information is for End User's use only and may not be sold, redistributed or otherwise used for commercial purposes. All illustrations and images included in CareNotes® are the copyrighted property of A.D.A.M., Inc. or IBM Watson Health
The above information is an educational aid only. It is not intended as medical advice for individual conditions or treatments. Talk to your doctor, nurse or pharmacist before following any medical regimen to see if it is safe and effective for you.
Further information
Always consult your healthcare provider to ensure the information displayed on this page applies to your personal circumstances.