Asthma Attack in Children
Medically reviewed by Drugs.com. Last updated on Jul 4, 2022.
An asthma attack happens when your child's airway becomes more swollen and narrowed than usual. Some asthma attacks can be treated at home with rescue medicines. An asthma attack that does not get better with treatment is a medical emergency.
DISCHARGE INSTRUCTIONS:
Call your local emergency number (911 in the US) if:
Your child's peak flow numbers are in the Red Zone and do not get better after treatment.
Your child has severe shortness of breath.
The skin around your child's neck and ribs pulls in with each breath.
Your child's nostrils are flaring with each breath.
Your child has trouble talking or walking because of shortness of breath.
Return to the emergency department if:
Your child is breathing faster than usual.
Your child has shortness of breath, even after he or she takes short-term medicine as directed.
Your child's lips or nails turn blue or gray.
Your child's peak flow numbers are in the Yellow Zone and his or her symptoms are the same or worse after treatment.
Your child needs to use his or her rescue medicine more often than every 4 hours.
Your child's shortness of breath is so severe that he or she cannot sleep or do usual activities.
Call your child's doctor or asthma specialist if:
Your child has a fever.
Your child coughs up yellow or green mucus.
Your child needs more medicine than usual to control his or her symptoms.
Your child struggles to do his or her usual activities because of symptoms.
You run out of medicine before your child's next refill is due.
Your child's symptoms get worse.
Your child needs to take more medicine than usual to control his or her symptoms.
You have questions or concerns about your child's condition or care.
Medicines:
Your child may need any of the following:
Steroids may be given to decrease swelling in your child's airway. The dose of this medicine may be decreased over time. Your child's healthcare provider will give you directions for how to give your child this medicine.
A long-acting inhaler works over time to prevent attacks. It is usually taken every day. A long-acting inhaler will not help decrease symptoms during an attack.
A rescue inhaler works quickly during an attack. Keep rescue inhalers with your child at all times. Make sure you, your child, and your child's caregivers know when and how to use a rescue inhaler.
Allergy shots or allergy medicine may be needed to control allergies that make symptoms worse.
Give your child's medicine as directed. Contact your child's healthcare provider if you think the medicine is not working as expected. Tell him or her if your child is allergic to any medicine. Keep a current list of the medicines, vitamins, and herbs your child takes. Include the amounts, and when, how, and why they are taken. Bring the list or the medicines in their containers to follow-up visits. Carry your child's medicine list with you in case of an emergency.
Follow your child's Asthma Action Plan (APP):
An AAP is a written plan to help you manage your child's asthma. It is created with your child's healthcare provider. Give the AAP to all of your child's care providers. This includes your child's teachers and school nurse. An AAP contains the following information:
A list of what triggers your child's asthma
How to keep your child away from triggers
When and how to use a peak flow meter
What your child's peak numbers are for the Green, Yellow, and Red Zones
Symptoms to watch for and how to treat them
Names and doses of medicines, and when to use each medicine
Emergency telephone numbers and locations of emergency care
Instructions for when to call the doctor and when to seek immediate care
Know the early warning signs of an asthma attack:
Early treatment may prevent a more serious asthma attack.
Coughing
Throat clearing
Breathing faster than usual
Being more tired than usual
Trouble sitting still
Trouble sleeping or getting into a comfortable position for sleep
Keep your child away from common asthma triggers: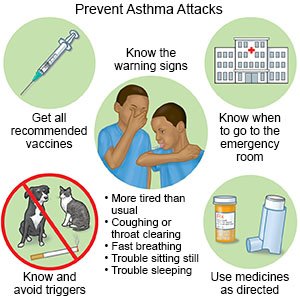 Do not smoke near your child. Do not smoke in your car or anywhere in your home. Do not let your older child smoke. Nicotine and other chemicals in cigarettes and cigars can make your child's asthma worse. Ask your child's healthcare provider for information if you or your child currently smoke and need help to quit. E-cigarettes or smokeless tobacco still contain nicotine. Talk to your child's healthcare provider before you or your child use these products.
Decrease your child's exposure to dust mites. Cover your child's mattress and pillows with allergy-proof covers. Wash your child's bedding every 1 to 2 weeks. Dust and vacuum your child's bedroom every week. If possible, remove carpet from your child's bedroom.
Decrease mold in your home. Repair any water leaks in your home. Use a dehumidifier in your home, especially in your child's room. Clean moldy areas with detergent and water. Replace moldy cabinets and other areas.
Cover your child's nose and mouth in cold weather. Use a scarf or mask made for the cold to help prevent your child from breathing in cold air. Make sure your child can still breathe well with a scarf or mask over his or her face.
Check air quality reports. Keep your child indoors if the air quality is poor or there is a high level of pollen in the air. Keep doors and windows closed. Use an air conditioner as much as possible. Carry rescue medicines if you have to bring your child outdoors.
Manage your child's other health conditions:
This includes allergies and acid reflux. These conditions can trigger your child's asthma.
Ask about vaccines your child may need:
Vaccines can help prevent infections that could trigger your child's asthma. Ask your child's healthcare provider what vaccines your child needs. Your child may need a yearly flu shot.
Follow up with your child's doctor or asthma specialist as directed:
Bring a diary of your child's peak flow numbers, symptoms, and triggers with you to the visit. Write down your questions so you remember to ask them during your visits.
© Copyright IBM Corporation 2022 Information is for End User's use only and may not be sold, redistributed or otherwise used for commercial purposes. All illustrations and images included in CareNotes® are the copyrighted property of A.D.A.M., Inc. or IBM Watson Health
The above information is an educational aid only. It is not intended as medical advice for individual conditions or treatments. Talk to your doctor, nurse or pharmacist before following any medical regimen to see if it is safe and effective for you.
Further information
Always consult your healthcare provider to ensure the information displayed on this page applies to your personal circumstances.