Join the 'Norepinephrine' group to help and get support from people like you.
Norepinephrine News
Related terms: Noradrenaline
Posted 31 Jan 2017 by Drugs.com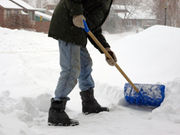 MONDAY, Jan. 30, 2017 – If you're a middle-aged couch potato, shoveling snow could put you at risk for a heart attack. While shoveling isn't dangerous for many people, certain people are at higher risk. The American Heart Association (AHA) recommends that people should check with a doctor first if they don't get regular exercise, have a medical condition or are middle-aged or older. If you must...
Further Information
Related Condition Support Groups
Norepinephrine Patient Information at Drugs.com