Join the 'Kapvay' group to help and get support from people like you.
Kapvay News
Posted 2 days ago by Drugs.com
ISSUE: The FDA is aware that patients undergoing treatment or management of pain are commonly given pain medicines in the spinal fluid (intrathecal administration) that are not FDA approved for use with the implanted pump. While individual patients may experience some relief from using pain medicines not approved for intrathecal administration in their implanted pumps, such use may create ...
Posted 15 Sep 2014 by Drugs.com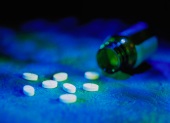 MONDAY, Sept. 15, 2014 – A relatively small number of medications are responsible for sending thousands of young children to the hospital for accidental ingestion, a U.S. government study finds. Each year between 2007 and 2011, about 9,500 U.S. children younger than 6 years were hospitalized after getting a hold of family members' medication, according to the U.S. Centers for Disease Control and ...
Further Information
Related Condition Support Groups
Attention-Deficit Hyperactivity Disorder (ADHD)
Kapvay Patient Information at Drugs.com