Join the 'Hiccups' group to help and get support from people like you.
Hiccups News
Posted 29 May 2018 by Drugs.com
-- A hiccup is an involuntary movement of the diaphragm, followed by a quick close of the vocal cords, the U.S. National Library of Medicine says. Typically coming in spurts, a hiccup may be triggered by: Eating too much or too quickly. Eating spicy food. Drinking alcohol. Drinking a carbonated beverage. Conditions that irritate nerves that influence the diaphragm. Feeling nervous or excited. ...
Posted 7 May 2015 by Drugs.com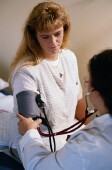 WEDNESDAY, May 6, 2015 – Stroke is the third leading cause of death in women, but many are unaware of warning signs and symptoms that are unique to females, a new study says. Of 1,000 women surveyed, only one in 10 was aware that hiccups that occur with unusual chest pain is an early warning sign of stroke in women, said researchers from Ohio State University Wexner Medical Center, in Columbus. ...
Further Information
Related Condition Support Groups
Related Drug Support Groups
gabapentin, baclofen, prochlorperazine, Thorazine, chlorpromazine, Lioresal, Ormazine, Kemstro