Join the 'Guanfacine' group to help and get support from people like you.
Guanfacine News
Posted 14 Aug 2015 by Drugs.com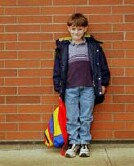 FRIDAY, Aug. 14, 2015 – The number of American children with attention-deficit/hyperactivity disorder (ADHD) is rising, U.S. government experts say. And it's important for the disorder to be recognized and treated. Untreated ADHD can cause serious problems for children, such as falling behind in school, difficulty making and keeping friends, and having conflicts with parents, according to the ...
Further Information
Related Condition Support Groups
Attention-Deficit Hyperactivity Disorder (ADHD), Tourette's Syndrome, High Blood Pressure, Hypertension
Related Drug Support Groups
Guanfacine Patient Information at Drugs.com