Join the 'Emergency' group to help and get support from people like you.
Emergency News
Posted 30 Oct 2015 by Drugs.com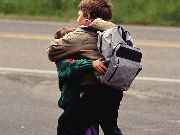 FRIDAY, Oct. 30, 2015 – Many American parents don't know if their pre-school or child care facility has an emergency plan in place, a new poll finds. Thirty-nine percent of parents with kids aged 5 and younger said their child's pre-school or day care had an emergency during the past two years due to severe weather, a power outage, an evacuation or a violent situation. But only 37 percent of ...