Join the 'Diabetes Insipidus' group to help and get support from people like you.
Diabetes Insipidus News
Related terms: Central Diabetes Insipidus
Posted 18 Dec 2015 by Drugs.com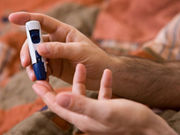 FRIDAY, Dec. 18, 2015 – A new nasal spray might make rescue care easier for diabetics who are woozy or even unconscious due to severe low blood sugar, a new clinical trial suggests. The nasal spray contains powdered glucagon, a hormone that causes a prompt increase in blood sugar levels. The trial results showed that the nasal spray is nearly as effective in treating hypoglycemia (low blood ...
Posted 6 Apr 2015 by Drugs.com
-- Diabetes doesn't have to sideline you from the sport you love. The Academy of Nutrition and Dietetics offers these safety suggestions: Don't exercise unless your blood sugar level is at least 100 mg/dL, or within one week of a severe episode of hypoglycemia (low blood sugar). Monitor your blood sugar throughout exercise. Make sure it stays within the range recommended by your doctor. While ...
Further Information
Related Drug Support Groups
hydrochlorothiazide, desmopressin, DDAVP, Minirin, Microzide, HydroDIURIL, DDAVP Nasal, Loqua, DDAVP Rhinal Tube, view more... Pitressin, Aquazide H, Ezide, Diaqua, Carozide, Hydro Par, Oretic, Esidrix, vasopressin, Vasostrict