Join the 'Clonidine' group to help and get support from people like you.
Clonidine News
Posted 15 Sep 2014 by Drugs.com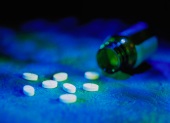 MONDAY, Sept. 15, 2014 – A relatively small number of medications are responsible for sending thousands of young children to the hospital for accidental ingestion, a U.S. government study finds. Each year between 2007 and 2011, about 9,500 U.S. children younger than 6 years were hospitalized after getting a hold of family members' medication, according to the U.S. Centers for Disease Control and ...
Posted 4 Oct 2010 by Drugs.com
FLORHAM PARK, N.J., Oct. 4 /PRNewswire/ – Shionogi Inc., the U.S.-based group company of Shionogi & Co., Ltd., today announced the U.S. Food and Drug Administration approval of the non-stimulant medication Kapvay (clonidine hydrochloride) extended-release tablets, an extended-release oral formulation for the treatment of Attention Deficit Hyperactivity Disorder (ADHD) in children and adolescents ...
Further Information
Related Condition Support Groups
Pain, Attention-Deficit Hyperactivity Disorder (ADHD), High Blood Pressure, Hypertension, Anxiety, Alcohol Withdrawal, Opiate Withdrawal, Bipolar Disorder, Postanesthetic Shivering, view more... Tourette's Syndrome, Tardive Dyskinesia, Smoking Cessation, Restless Legs Syndrome, Postural Orthostatic Tachycardia Syndrome, Persisting Pain, Shingles, Postherpetic Neuralgia, Pheochromocytoma Diagnosis, Hyperhidrosis, Perimenopausal Symptoms, Atrial Fibrillation, Benzodiazepine Withdrawal, Migraine Prevention, Migraine Prophylaxis, Insomnia - Stimulant-Associated, Hypertensive Emergency, Ulcerative Colitis
Related Drug Support Groups
Catapres, Kapvay, Catapres-TTS-1, Duraclon, Jenloga, Clonidine ER, Nexiclon XR
Clonidine Patient Information at Drugs.com