Join the 'Breastfeeding' group to help and get support from people like you.
Breastfeeding News
Posted 6 Apr 2015 by Drugs.com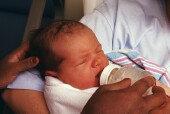 MONDAY, April 6, 2015 – Parents who buy breast milk online may not always get 100 percent human milk. A new study found about 10 percent of samples tested were contaminated with cow's milk. "Human milk may be purposely 'topped off' with cow's milk or infant formula, and this could be harmful to babies receiving the purchased milk if they have cow's milk allergy or intolerance," said lead author ...