ViraCHEK/FeLV
This page contains information on ViraCHEK/FeLV for
veterinary use
.
The information provided typically includes the following:
ViraCHEK/FeLV Indications
Warnings and cautions for ViraCHEK/FeLV
Direction and dosage information for ViraCHEK/FeLV
ViraCHEK/FeLV
This treatment applies to the following species:
Company: Zoetis
FELINE LEUKEMIA VIRUS ANTIGEN TEST KIT
For the detection of Feline Leukemia Virus (FeLV) antigen in feline whole blood, serum, and plasma.
GENERAL INFORMATION AND INTENDED USES
The plastic wells contain antibodies directed against the FeLV group specific antigen, p27. A monoclonal antibody directed against p27 is labeled with the enzyme horseradish peroxidase (HRP). The specimen (whole blood, plasma or serum) is incubated simultaneously with the solid phase and enzyme-labeled antibodies. If present, p27 group specific antigen is bound to the antibody coated well and enzyme-linked antibody at the same time. Any free enzyme linked antibody is washed away and a chromogenic substrate is added. The development of a distinctly blue color specifically indicates the presence of FeLV. In the absence of FeLV, no color change will be observed.
ViraCHEK®/FeLV is highly specific, sensitive and simple to use. Test results for circulated antigen can be obtained in 10 minutes or less. Most cats initially become antigen positive within 2-3 weeks after virus exposure. Progressive infections will remain positive while regressive infections may revert to antigen negative 2-8 weeks, or more, later.
KIT COMPOSITION AND CONSERVATION
Contains materials sufficient to test 48 to 140 samples.
| | | | |
| --- | --- | --- | --- |
| ITEM | REAGENT NATURE | VOLUME | RECONSTITUTION AND CONSERVATION |
| A | Anti-FeLV Antibody Coated Wells | 3 sets of 4x12 wells | Ready to use. |
| CONTROL + | Positive Control; preserved with Gentamicin Sulfate and Amphotericin B | 3.0 mL | Ready to use. Red Cap. |
| CONTROL - | Negative Control; preserved with Gentamicin Sulfate and Amphotericin B | 3.0 mL | Ready to use. Gray Cap. |
| 1 | HRP Monoclonal Antibody Conjugate; preserved with Phenol and Microcide III | 7.5 mL | Ready to use. Blue Cap. |
| 2 | Substrate Buffer* | 2 x 7.0 mL | Ready to use. Purple Cap. |
| | Well holder | | |
Store all reagents provided in the kit at 2 - 8 °C. Reagents should not be frozen.
*contains: 1,2-propylene Carbonate 5-10%, N-methyl-2-pyrrolidone 5-10%, 2,2-oxybisethanol diethylene glycol 1-5%.
REAGENTS REQUIRED TO PERFORM 48 TESTS
a) 48 Anti-FeLV Antibody Coated Wells
b) 1.0 mL Positive Control
c) 1.0 mL Negative Control
d) 2.5 mL Conjugate
e) 1 Bottle Substrate Buffer
EQUIPMENT AND MATERIALS REQUIRED BUT NOT PROVIDED
a) Marking Pen
b) Deionized or distilled water or normal saline
c) Wash Bottle
d) Precision Pipettes
e) Timer
WARNINGS TO THE USERS OF REAGENTS AND ANTIBODY COATED PLATES
● Handle all reagents and samples as biohazardous material. It is recommended to dispose reagents and contaminated material according to the applicable regulations.
● Wear suitable protective clothing.
● Irritating to skin and eyes. Keep all reagents away from skin and eyes. In case of contact with eyes, rinse immediately with plenty of water and seek medical advice.
● Take care not to contaminate any test reagents with samples or bacterial agents.
● The best results are achieved by following the protocols described below, using good, safe laboratory techniques.
● Do not use this kit or any of its contents after the expiration date and do not intermix components from different serial numbers.
● Use a separate pipette tip for each sample.
● Follow instructions exactly. Improper washing or contamination of reagents may produce nonspecific color development.
● Do not expose kit to direct sunlight.
● For veterinary use only.
● NEVER PIPETTE BY MOUTH. Harmful if swallowed.
● In vitro use only
NOTE: Allow all components to come to 21 - 25 °C before starting.
SAMPLE COLLECTION AND STORAGE
● Follow proper sample collection procedures.
● 50 µL (0.05 mL) of feline anticoagulated whole blood, plasma or serum is required.
● Harvest sample and store properly (up to seven days 2 - 7 °C for serum and plasma, up to 24 hours for whole blood),
● For prolonged storage, serum and plasma samples should be kept frozen (-20 °C or colder).
● Test only good quality samples (i.e. avoid bacterial contamination, heavy hemolysis or lipemia). When in doubt, obtain a better quality sample.
TEST PROCEDURE
STEP

NOTES

SET UP AND SAMPLE INCUBATION

1)

Remove and place in well holder one well for Positive Control, one well for Negative Control, and one well for each sample. Leave the wells attached to each other.

2)

Add 1 drop of Positive Control (Red Cap) into the first well. Add 1 drop of Negative Control (Gray Cap) into the second well.

3)

Pipette 50 µL (0.05 mL) of sample (anticoagulated whole blood, plasma or serum) into the next well following the controls. Repeat for each additional sample into subsequent wells. One well is used for each sample.

CONJUGATE

4)

Add 1 drop of Conjugate (Bottle 1 - Blue Cap) into each well. Gently tap the well holder (without splashing) for 15 seconds to mix.

5)

Incubate for 5 minutes at 21 - 25 °C.

BLOT AND WASH

6)

Discard the fluid from wells into appropriate container. Invert holder and blot firmly onto a paper towel to remove final drops.

7)

Wash by vigorously filling the wells to overflowing with distilled or deionized water or normal saline. NORMAL SALINE MUST BE USED WITH WHOLE BLOOD SAMPLES. Direct a forceful stream into each well. (Oversplashing will not contaminate adjacent wells).

8)

Discard the fluid from the wells into an appropriate container after each wash.

9)

Repeat wash cycle five (5) times. If saline is used to wash wells use distilled or deionized water for final wash.

10)

Discard excess fluid into appropriate container. Invert holder and blot firmly onto a paper towel to remove final drops.

DEVELOP

11)

Place 2 drops Substrate Buffer (Bottle 2 - Purple Cap) into each well. Tap well holder (without splashing) for 15 seconds to mix.

12)

Incubate for 5 minutes at 21 - 25 °C.

13)

Read results Immediately.
DANGER
Substrate Buffer: DANGER. Causes skin irritation. Causes serious eye irritation. May cause respiratory irritation. May damage the unborn child. May cause damage to organs (kidney, liver) through prolonged or repeated exposure. Obtain special instructions before use. Do not handle until all safety precautions have been read and understood. Do not breathe mist or vapor. Wear protective gloves / protective clothing / eye protection / face protection. Wash thoroughly after handling. Use only outdoors or in a well-ventilated area. Avoid release to the environment. If exposed or concerned: get medical advice / attention. IF ON SKIN: Wash with plenty of soap and water. If skin irritation occurs: Get medical advice/attention. IF INHALED: Remove person to fresh air and keep comfortable for breathing. Call a poison center/doctor if you feel unwell. IF IN EYES: Rinse cautiously with water for several minutes. Remove contact lenses, if present and easy to do. Continue rinsing. If eye irritation persists: get medical advice / attention. Take off contaminated clothing and wash before reuse. Store in a well-ventilated place. Keep container tightly closed. Store locked up. Dispose of contents / container in accordance with local / regional / national / international regulations.
INTERPRETATION OF RESULTS
Controls:
● POSITIVE control should be distinctly blue.
● NEGATIVE control should be completely clear.
Samples:
● POSITIVE samples will be blue. Color intensity will vary with level of FeLV antigen present.
● NEGATIVE samples will be clear. Compare directly with the negative control against a white background.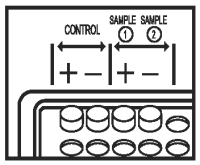 NOTES
● When mixing well contents in Steps 4 and 11, tap microplate rapidly for a full 15 seconds.
● Washing is the most important step. Microwells cannot be overwashed. Underwashing will result in nonspecific blue color development in the negative control and sample wells.
● Remember! Use saline as the wash solution with whole blood samples.
● Read results at 5 minutes. If no color is seen at 5 minutes, the sample is negative.
SYMBOL DESCRIPTIONS

Zoetis Inc., Kalamazoo, MI 49007, USA
For product info call:
US VMIPS 1-888-963-8471
In Canada 1-800-461-0917
VLN/PCN 190/5028.00
www.zoetis.com
EC REP
Zoetis Belgium SA, Rue Laid Burniat 1, 1348 Louvain-la-Neuve, Belgium
Zoetis Australia Pty Ltd, L6, 5 Rider Bvd, RHODES NSW 2138, AUSTRALIA
1800 814 883
40028789
CPN: 1115045.6
ZOETIS INC.
333 PORTAGE STREET, KALAMAZOO, MI, 49007
| | | |
| --- | --- | --- |
| Telephone: | | 269-359-4414 |
| Customer Service: | | 888-963-8471 |
| Website: | | www.zoetis.com |
| | |
| --- | --- |
| | THIS SERVICE AND DATA ARE PROVIDED "AS IS". DVMetrics assumes no liability, and each user assumes full risk, responsibility, and liability, related to its use of the DVMetrics service and data. See the Terms of Use for further details. |