Special Formula 17900-Forte Suspension (Canada)
This page contains information on Special Formula 17900-Forte Suspension for
veterinary use
.
The information provided typically includes the following:
Special Formula 17900-Forte Suspension Indications
Warnings and cautions for Special Formula 17900-Forte Suspension
Direction and dosage information for Special Formula 17900-Forte Suspension
Special Formula 17900-Forte Suspension
This treatment applies to the following species:

Company: Zoetis
sterile suspension
DIN 00813877
Veterinary Use Only
Lactating Cow Mastitis Treatment
Flexi-Tube®
for full or partial insertion
For intramammary infusion only
Warnings
(1) Milk taken from treated animals during treatment and within 72 hours after the latest treatment must not be used as food. (2) Treated animals must not be slaughtered for use in food for at least 24 days after the latest treatment with this drug. (3) Use of this product in a manner other than indicated under DOSAGE might result in violative residues.
KEEP OUT OF REACH OF CHILDREN.
MEDICINAL INGREDIENTS: Penicillin G Procaine 100 000 I.U., Dihydrostreptomycin (as dihydrostreptomycin sulfate) 100 mg, Novobiocin (as novobiocin sodium) 150 mg, Polymyxin B Sulfate 50 000 I.U., Hydrocortisone Acetate 20 mg, Hydrocortisone Sodium Succinate 12.5 mg., per 10 mL.
Special Formula 17900-Forte Suspension Indications
For the treatment of acute and chronic bovine mastitis caused by susceptible strains of staphylococci, streptococci, coliforms or pseudomonads.
DOSAGE: Infuse (1) syringe (10 mL) per quarter. Repeat once after a 24 hour period if necessary.
ADMINISTRATION: Milk out udder completely. Wash udder and teats thoroughly, dry, then clean each teat end well with an enclosed alcohol swab (new one for each teat). Warm PLASTET™ disposable syringe to body temperature and shake well. Choose the desired insertion length (full or partial) and insert tip into teat canal; push plunger to dispense entire contents of the PLASTET disposable syringe and massage the quarter to distribute the medication into the milk cistern. Using a suitable teat dip, dip all teats following treatment. Do not milk for at least six hours after instillation; thereafter the animal should be milked at regular intervals and the milk discarded. Discard empty PLASTET.
Directions for the FLEXI-TUBE® System: The FLEXI-TUBE is designed to provide the choice of either insertion of the full cannula, as has traditionally been practiced, or insertion of no more than 4 mm of the cannula, as recommended by the U.S. National Mastitis Council.
a) Full Insertion: Remove the white end cap by pulling straight up as shown. Gently insert the full cannula into the teat canal; carefully infuse the product.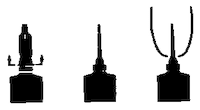 b) Partial Insertion: Remove both the white end cap and the red cannula by pushing sideways as shown. Gently insert the exposed white tip into the teat canal; carefully infuse the product.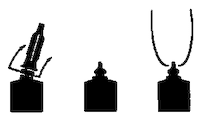 Storage
Store between 15 and 25°C.
Zoetis is a trademark and Special Formula 17900-Forte and FLEXI-TUBE are registered trademarks of Zoetis or its licensors, used under license by Zoetis Canada Inc.
Zoetis Canada Inc., Kirkland QC H9H 4M7
Net

20 x 10 mL syringes

6204009C05 1674-14-1

003552L04 1674-05-1
CPN: 1198310.6
ZOETIS CANADA INC.
16,740 TRANS-CANADA HIGHWAY, KIRKLAND, QC, H9H 4M7
| | | |
| --- | --- | --- |
| Order Desk: | | 800-663-8888 |
| Technical Services Canada: | | 800-461-0917 |
| Technical Services USA: | | 800-366-5288 |
| Website: | | www.zoetis.ca |
| | |
| --- | --- |
| | Every effort has been made to ensure the accuracy of the Special Formula 17900-Forte Suspension information published above. However, it remains the responsibility of the readers to familiarize themselves with the product information contained on the Canadian product label or package insert. |