Duramune Lyme + Max 5-CvK/4L
This page contains information on Duramune Lyme + Max 5-CvK/4L for
veterinary use
.
The information provided typically includes the following:
Duramune Lyme + Max 5-CvK/4L Indications
Warnings and cautions for Duramune Lyme + Max 5-CvK/4L
Direction and dosage information for Duramune Lyme + Max 5-CvK/4L
Duramune Lyme + Max 5-CvK/4L
This treatment applies to the following species:
Company: Elanco US
Canine Distemper-Adenovirus Type 2-Coronavirus-Parainfluenza-Parvovirus Vaccine, Modified Live and Killed Virus, Borrelia Burgdorferi Bacterin-Leptospira Canicola-Grippotyphosa-Icterohaemorrhagiae-Pomona Bacterial Extract
For use in animals only
This product has been shown to be effective for vaccination of healthy dogs 9 weeks of age or older against canine distemper, infectious canine hepatitis, canine adenovirus type 2, canine coronavirus, canine parainfluenza, canine parvovirus (CPV), Leptospira canicola, Leptospira icterohaemorrhagiae, Leptospira grippotyphosa, Leptospira pomona and Borrelia burgdorferi. This product contains a CPV 2b strain which has been demonstrated effective against disease caused by CPV 2c in puppies with CPV maternal antibody. For more information regarding efficacy and safety data, go to productdata.aphis.usda.gov.
Directions For Use
● General directions: Aseptically rehydrate Duramune Max 5 with Canine Coronavirus vaccine-Borrelia Burgdorferi bacterin-Leptospira bacterial extract supplied. Administer (one) 1 mL dose subcutaneously.
The presence of maternal antibody is known to interfere with the development of active immunity. Puppies should be revaccinated every 2 to 3 weeks until at least 12 weeks of age.
All dogs over 12 weeks of age should initially receive one dose of this product and a second dose 2 to 3 weeks later.
The need for annual booster vaccinations has not been established for this product; consultation with a veterinarian is recommended.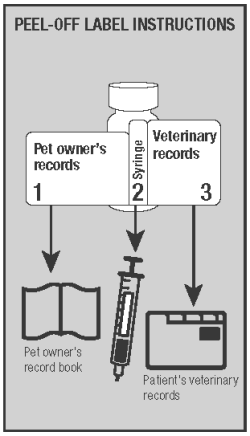 Duramune Lyme + Max 5-CvK/4L Caution
Store in the dark at 2° to 8°C (35° to 46°F). Avoid freezing. Shake well. In case of anaphylactoid reaction, administer epinephrine. Inactivate all unused contents before disposal. Do not mix with other products, except as specified on the label. This product has not been tested in pregnant animals. In case of human exposure, contact a physician.
Gentamicin and thimerosal added as preservatives.
Duramune Lyme + Max 5-CvK/4L Caution
In the absence of a veterinarian-client-patient relationship, Federal law prohibits the relabeling, repackaging, resale, or redistribution of the individual contents of this package.
Duramune Lyme, Elanco and the diagonal bar logo are trademarks of Eli Lilly and Company or its affiliates.
© 2017 Elanco US Inc. all rights reserved.
Elanco US Inc., Fort Dodge, IA 50501
Phone: 888-545-5973
VLN/PCN 196/46B9.21
| | | |
| --- | --- | --- |
| 25 Doses | 25 Vials of Vaccine plus 25 x 1 mL Vials of Diluent | YL101008B |
CPN: 1943016.1
ELANCO US INC.
FORT DODGE, IA, 50501
| | | |
| --- | --- | --- |
| Customer Service: | | 317-276-1262 |
| Technical Service: | | 800-428-4441 |
| Website: | | www.elanco.us |
| Email: | | elanco@elanco.com |
| | |
| --- | --- |
| | Every effort has been made to ensure the accuracy of the Duramune Lyme + Max 5-CvK/4L information published above. However, it remains the responsibility of the readers to familiarize themselves with the product information contained on the US product label or package insert. |