Made
Package insert / prescribing information
Dosage form: injection, solution
1. INDICATIONS AND USAGE
1.1. Treatment of face and neck wrinkles
1.2. Skin tone improvement
1.3. Local treatment of skin aging
1.4. Stimulation of connective tissue metabolism.
Standard protocol consists of one session a week for 5-7 weeks. For prolonged treatments, 2 sessions for the first week, 1 session a week for 1 month and then 1 session a month are recommended.



2. DOSAGE AND ADMINISTRATION
2.1. Treatment of skin tone improvement for IM administration: 1 vial 1-3 times a week according to severity and clinical evolution
2.2. Treatment of skin tone improvement and Treatment of face and neck wrinkles using mesotherapy technique: 1 vial. Using a 4 mm, 30G needle, make the classic intradermal injections utilizing mesotherapy technique.
2.3. Treatment of face and neck wrinkles using mesotherapy technique: 0.3 ml per wrinkle/cannulation. Using a 13 mm, 30G needle, insert the needle beneath the skin the full length of the needle, cannulate the wrinkle by moving the needle gently to left and right, while injecting the content of the syringe (tunnelling technique) as the needle is withdrawn.
2.4. Standard protocol according to mesotherapy technique consists of one session a week for 5-7 weeks. For prolonged treatments, 2 sessions for the first week, 1 session a week for 1 month and then 1 session a month are recommended.
2.5. Opening of Vials: Use sterile needles and sterile syringe. Do not reuse. Do not use if foreign particles are present. Draw 1 cc of air into syringe, insert needle into vial inject air and withdraw the solution into the syringe.


3. DOSAGE FORMS AND STRENGTHS
3.1. Injectable solution for subcutaneneous, intradermal, or intramuscular administration. Forms: 2 ml glass vials
3.2. Each ingredient is attenuated according to the procedures stated in the Homeopathic Pharmacopeia of United States.
Active ingredients: a-Ketoglutaricum acidum 6X; Ascorbic acid 6X; Barium oxalosuccinate 6X; Calcarea fluorica 30X; Cis- Aconitic acid 6X; Collagen 8X; Collagen 30X; Fumaricum acidum 6X; Funiculus umbilicalis 10X; Funiculus umbilicalis 30X; Galium aparine 6X; Glandula suprarenalis 10X; Hepar 10X; Hyaluronidase 8X; Hyaluronidase 30X; Magnesium gluconate 6X; Manganum phosphoricum 10X; Mercurius solubilis 20X; Muscle tissue 20X; Natrum oxalaceticum 6X; Natrum pyruvicum 8X; Nicotinamidum 6X; Placenta 10X; Pyridoxinum hydrochloricum 6X; Riboflavinum 6X; Skin tissue 8X; Skin tissue 30X; Sulphur 12X; Thiaminum hydrochloricum 6X; Thuja occidentalis 6X.
Inactive ingredient: Sterile isotonic sodium chloride solution.


4. CONTRAINDICATIONS
4.1. None Known

5. WARNINGS AND PRECAUTIONS
5.1. Be sure to disinfect the area before application. After treatment, avoid alcohol containing disinfectants as they produce local irritation that appears unpleasant on face. In most cases, the slight irritation disappears within 2 hours.
5.2. Skin cleansing/disinfection is required before application. Saprophytic bacteria may produce injection site abscesses with improper skin preparation.


6. ADVERSE REACTIONS
6.1. The most common mild adverse reaction is slight reddening at the injection site due to the mechanical effect of the needle or a superficial skin reaction of mild erythema.

7. DRUG INTERACTIONS
7.1.None

8. USE IN SPECIFIC POPULATIONS
8.1 No restriction.

9. DRUG ABUSE AND DEPENDENCE
9.1. No Known
10. OVERDOSAGE
10.1. No Known

11. DESCRIPTION


Made® is a sterile solution Made with isotonic sodium chloride solution.
It is a homeopathic complex medicine and its active ingredients may be classified in 3 groups according to the starting material:
11.1. Herbal and mineral remedies
11.2. Enzymes and intermediates of the Krebs cycle
11.3. Biological substrates.
The strengths of the homeopathic ingredients are related to their physiological function, as follows:
• The attenuation of the herbal and mineral remedies have been selected in order to act as a detoxifier of the skin matrix
• Enzymes and intermediates of the Krebs cycle at low attenuations stimulate the physiological mechanism of the cell respiration cycle.
• The attenuation of the biological substrates act to target the organs and as supporters of the endogenous production of the structural components of skin tissue.
Made® shows a "flattening" effect on wrinkles, this improves as the protocol is continued; the effect is due to improved metabolism in the area of application not due to a filler effect.


12. CLINICAL PHARMACOLOGY
12.1. Mechanism of Action
The medication acts through a low-dose enzymatic mechanism. Due to the homeopathic nature of the active ingredients, receptors are not blocked due to saturation of their active sites, rather there is a feed back regulation of the physiological metabolism of collagen. As enzymes may be easily blocked due to different events (on-going diseases, aging, sun exposure, etc.) homeopathic dilutions of enzymatic substrates act as enzyme inducing tools.
12.2. Pharmacodynamics
The physiological effects of Made® is due to the effects of the ingredients, according to their description in the Homeopathic Materia Medica.
In homeopathy there is no direct relationship between dose and effect, rather there is a relationship between attenuation and balancing effect on biochemical pathways.
In Made® the attenuation of each ingredient has been selected in order to promote the biochemical pathways of collagen synthesis.
12.3. Pharmacokinetics
The homeopathic attenuation provides complete bioavability of the active ingredients.


13. NONCLINICAL TOXICOLOGY
13.1. Made® has no level of toxicity due to the attenuation of the ingredients.


14. CLINICAL STUDIES
14.1. One post-approval cohort clinical study has been performed according to the GCP. (1)
The study included 681 patients of both genders (578 female – 103 male) aged between 35 and 75 (female) and between 40 and 70 (male) without exclusion criteria and lasted 5 years from 1998 to 2003.
3.8% of the patients dropped out of the study for reasons that were not connected with the treatment.
The application consisted of linear infiltration of the wrinkle, utilizing mesotherapy technique, or infiltration inside the wrinkle, utilizing the tunnelization technique.
Treatment consisted of 8 sessions on a weekly basis, then for some patients the treatment was continued as one session a month for 2-3 months.
The results were evaluated before and after the program via the subjective classification of the visual and tactile characteristics of the wrinkles and the slackening of the face and neck tissues.
Mild reactions to the treatment were only observed in 20 cases (3%) with slight erythema at the injection site, which disappeared after a few minutes.
Made® proved to be highly effective with high levels of tolerability for all types of wrinkles and skin relaxation.
The best results were observed in female patients between 30-40 and 40-50 years old.


15. REFERENCES
(1) M. De Bellis : Treatment of wrinkles and skin slackening using the intradermal injection of a complex homeopathic remedy. Results of an observation study on 681 patients. La Medicina Biologica, 2004/2; 7-18.
- H.H. Reckeweg : Materia medica omeopatica. Ed. 1. Guna editore.


16. HOW SUPPLIED/STORAGE AND HANDLING
16.1. NDC 17089-238-31 10 glass vials packed in carton box
16.2. NDC 17089-238-32 50 glass vials packed in carton box
17. PATIENT COUNSELING INFORMATION
17.1. Patients should be informed of the homeopathic approach and the Made® therapeutic goal. Made® supports homologous collagen metabolism without a direct filling effect.

PACKAGE LABEL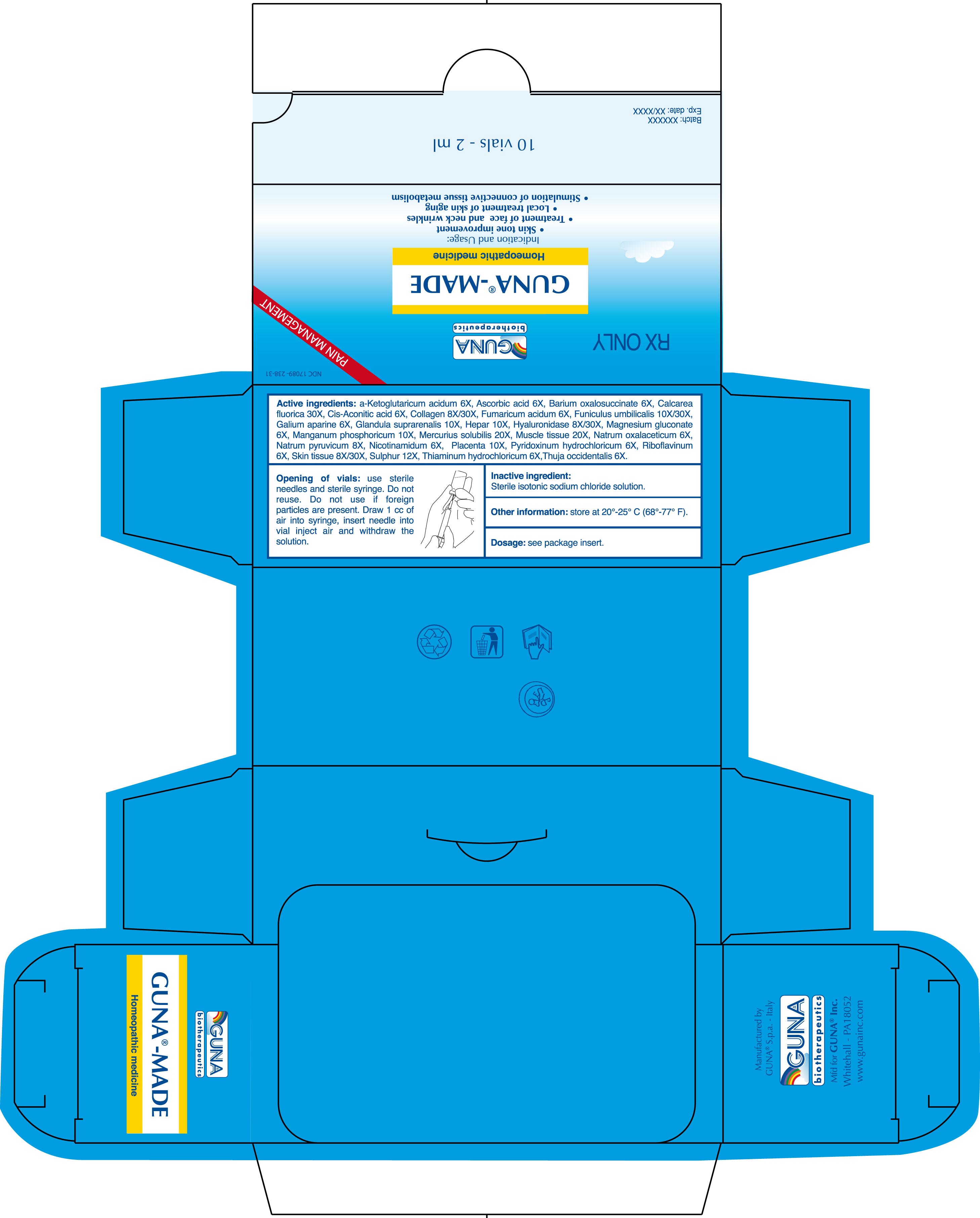 Made
.alpha.-ketoglutaric acid - aconitic acid, cis - ascorbic acid - barium cation - calcium fluoride - fumaric acid - galium aparine - hyaluronidase - magnesium gluconate - manganese phosphate, dibasic - mercury - niacinamide - pork - pork liver - pyridoxine hydrochloride - riboflavin - sodium diethyl oxalacetate - sodium pyruvate - sulfur - sus scrofa adrenal gland - sus scrofa collagen - sus scrofa placenta - sus scrofa skin - sus scrofa umbilical cord - thiamine hydrochloride - thuja occidentalis twig - injection, solution
Product Information
Product Type
HUMAN PRESCRIPTION DRUG LABEL
Item Code (Source)
NDC:17089-238
Route of Administration
INTRADERMAL, SUBCUTANEOUS, INTRAMUSCULAR
DEA Schedule
Active Ingredient/Active Moiety
Ingredient Name
Basis of Strength
Strength
.ALPHA.-KETOGLUTARIC ACID (.ALPHA.-KETOGLUTARIC ACID)
.ALPHA.-KETOGLUTARIC ACID
6 [hp_X] in 2 mL
ASCORBIC ACID (ASCORBIC ACID)
ASCORBIC ACID
6 [hp_X] in 2 mL
BARIUM OXALOSUCCINATE (BARIUM OXALOSUCCINATE)
BARIUM OXALOSUCCINATE
6 [hp_X] in 2 mL
CALCIUM FLUORIDE (CALCIUM FLUORIDE)
CALCIUM FLUORIDE
30 [hp_X] in 2 mL
ACONITIC ACID, CIS- (ACONITIC ACID, CIS-)
ACONITIC ACID, CIS-
6 [hp_X] in 2 mL
SUS SCROFA COLLAGEN (SUS SCROFA COLLAGEN)
SUS SCROFA COLLAGEN
8 [hp_X] in 2 mL
FUMARIC ACID (FUMARIC ACID)
FUMARIC ACID
6 [hp_X] in 2 mL
SUS SCROFA UMBILICAL CORD (SUS SCROFA UMBILICAL CORD)
SUS SCROFA UMBILICAL CORD
10 [hp_X] in 2 mL
GALIUM APARINE (GALIUM APARINE)
GALIUM APARINE
6 [hp_X] in 2 mL
SUS SCROFA ADRENAL GLAND (SUS SCROFA ADRENAL GLAND)
SUS SCROFA ADRENAL GLAND
10 [hp_X] in 2 mL
PORK LIVER (PORK LIVER)
PORK LIVER
10 [hp_X] in 2 mL
HYALURONIDASE (HYALURONIDASE)
HYALURONIDASE
8 [hp_X] in 2 mL
MAGNESIUM GLUCONATE (MAGNESIUM CATION)
MAGNESIUM GLUCONATE
6 [hp_X] in 2 mL
MANGANESE PHOSPHATE, DIBASIC (MANGANESE PHOSPHATE, DIBASIC)
MANGANESE PHOSPHATE, DIBASIC
10 [hp_X] in 2 mL
MERCURIUS SOLUBILIS (MERCURIUS SOLUBILIS)
MERCURIUS SOLUBILIS
20 [hp_X] in 2 mL
PORK (PORK)
PORK
20 [hp_X] in 2 mL
SODIUM DIETHYL OXALACETATE (DIETHYL OXALACETATE)
SODIUM DIETHYL OXALACETATE
6 [hp_X] in 2 mL
SODIUM PYRUVATE (PYRUVIC ACID)
SODIUM PYRUVATE
8 [hp_X] in 2 mL
NIACINAMIDE (NIACINAMIDE)
NIACINAMIDE
6 [hp_X] in 2 mL
SUS SCROFA PLACENTA (SUS SCROFA PLACENTA)
SUS SCROFA PLACENTA
10 [hp_X] in 2 mL
PYRIDOXINE HYDROCHLORIDE (PYRIDOXINE)
PYRIDOXINE HYDROCHLORIDE
6 [hp_X] in 2 mL
RIBOFLAVIN (RIBOFLAVIN)
RIBOFLAVIN
6 [hp_X] in 2 mL
SUS SCROFA SKIN (SUS SCROFA SKIN)
SUS SCROFA SKIN
8 [hp_X] in 2 mL
SULFUR (SULFUR)
SULFUR
12 [hp_X] in 2 mL
THIAMINE HYDROCHLORIDE (THIAMINE)
THIAMINE HYDROCHLORIDE
6 [hp_X] in 2 mL
THUJA OCCIDENTALIS TWIG (THUJA OCCIDENTALIS TWIG)
THUJA OCCIDENTALIS TWIG
6 [hp_X] in 2 mL
Inactive Ingredients
Ingredient Name
Strength
SODIUM CHLORIDE
0.018 mL in 2 mL
WATER
Packaging
#
Item Code
Package Description
1
NDC:17089-238-31
10 VIAL, GLASS (VIAL) in 1 BOX
1
2 mL in 1 VIAL, GLASS
2
NDC:17089-238-32
50 VIAL, GLASS (VIAL) in 1 BOX
2
2 mL in 1 VIAL, GLASS
Marketing Information
Marketing Category
Application Number or Monograph Citation
Marketing Start Date
Marketing End Date
unapproved homeopathic
09/29/2006
Labeler - Guna spa (430538264)
Establishment
Name
Address
ID/FEI
Operations
Guna spa
430538264
manufacture
Guna spa