Lymphomyosot
Package insert / prescribing information
Dosage form: injection
On This Page
Lymphomyosot Description
Injection Solution Ingredient Information: Each 1.1ml ampule contains: Geranium robertianum 4X 1.1 mcl, Nasturtium aquaticum 4X 1.1 mcl, Ferrum iodatum 12X 1.1 mcl, Juglans regia 3X 0.55 mcl, Myosotis arvensis 3X 0.55 mcl, Scrophularia nodosa 3X 0.55 mcl, Teucrium scorodonia 3X 0.55 mcl, Veronica officinalis 3X 0.55 mcl, Equistetum hyemale 4X 0.55 mcl, Fumaria officinalis 4X 0.55 mcl, Natrum sulphuricum 4X 0.55 mcl, Pinus sylvestris 4X 0.55 mcl, Gentiana lutea 5X 0.55 mcl, Aranea diadema 6X 0.55 mcl, Sarsaparilla 6X 0.55 mcl, Calcarea phosphorica 12X 0.55 mcl, Levothyroxine 12X 0.55 mcl. Inactive Ingredients: Sterile Isotonic sodium chloride solution.

INDICATION AND USAGE
Lymphomyosot® Injection Solution is classified as a homeopathic combination drug.
Botanical Ingredients:
Equisetum hyemale (Horsetail), Fumaria officinalis (Common fumitory), Gentiana lutea (Yellow gentian), Geranium robertianum (Herb Robert), Juglans regia (Walnut), Myosotis arvensis (Forget-me-not), Nasturtium aquaticum (Watercress), Pinus sylvestris (Scotch Pine), Sarsaparilla (Wild liquorice), Scrophularia nodosa (Figwort), Teucrium scorodonia (Wood-germander), Veronica officinalis (Common speedwell).
Mineral Ingredients:
Calcarea phosphorica (Tribasic calcium phosphate), Ferrum iodatum (Ferrous iodide), Natrum sulphuricum (Disodium sulfate).
Animal-derived ingredients:
Aranea diadema (Papal-cross spider), Levothyroxine (L-thyroxine).
Lymphomyosot® Injection Solution is indicated for the temporary relief of swelling due to poor circulation, minor injury and environmental toxins.
Lymphomyosot Dosage and Administration
The dosage schedules listed can be used as a general guide for the administration of Lymphomyosot® Injection Solution. Lymphomyosot® Injection Solution shows individual differences in clinical response. Therefore, the dosage for each patient should be individualized according to the patient's response therapy.
Adults and children 7 years and older: in acute disorders, 1 ampule per day, otherwise 1 ampule, 1 to 3 times per week IM/SC/IV/ID. Children ages 2 to 6: receive 1/2 the adult dosage. Discard unused solution.
Lymphomyosot® Injection Solution may be administered intravenously, intramuscularly, subcutaneously, or intradermally. The required dose of Lymphomyosot® Injection Solution is first withdrawn from the ampule into the syringe, and the syringe is then shaken briefly. Lymphomyosot® Injection Solution should be administered using a narrow gauge needle (e.g. 22 to 30 gauge). Note: Parental drug products like Lymphomyosot® Injection Solution should be inspected visually for particulate matter and discoloration prior to administration whenever solution and container permit. Lymphomyosot® Injection Solution is a clear, colorless solution. Discolored solutions should be discarded.
Warnings and Precautions
If new syptoms occur, or if redness, pain or swelling at the puncture site persists, the patient should be carefully re-evaluated because these could be signs of a more serious condition.
Lymphomyosot® Injection Solution exhibits no known adverse renal, hepatic, cardiovascular, gastrointestinal or central nervous system side effects.
No harmful or potentially harmful side effects such as central nervous system depression are known. Lymphomyosot® Injection Solution is generally well-tolerated, however, if symptoms persist or worsen discontinue use.
Teratogenic effects: In general, homeopathic drugs are not known to cause direct or indirect harm to the fetus Pregnancy Category C. Animal reproduction studies have not been conducted with this drug. It is also not known whether this drug can cause fetal harm when administered to a pregnant woman or can affect reproduction capacity. This drug should be given to a pregnant woman only if clearly needed.
Drug Interactions: None known
Drug/Laboratory Test Interaction: None known
Carcinogenesis, mutagenesis, impairment of fertility: Not applicable
Overdosage
Due to the low concentration of active ingredients in homeopathic preparations such as Lymphomyosot® Injection Solution. adverse reactions following over dosage are extremely unlikely. However, care must be taken not to exceed the recommended dosage.
Lymphomyosot - Clinical Pharmacology
The exact mechanism of action of Lymphomyosot® Injection Solution is not fully understood.
DOSAGE
Injections: 1.1 ml ampule

STORAGE CONDITIONS
Avoid freezing and excessive heat. Store at room temperature. Protect from light.

PRINCIPAL DISPLAY PANEL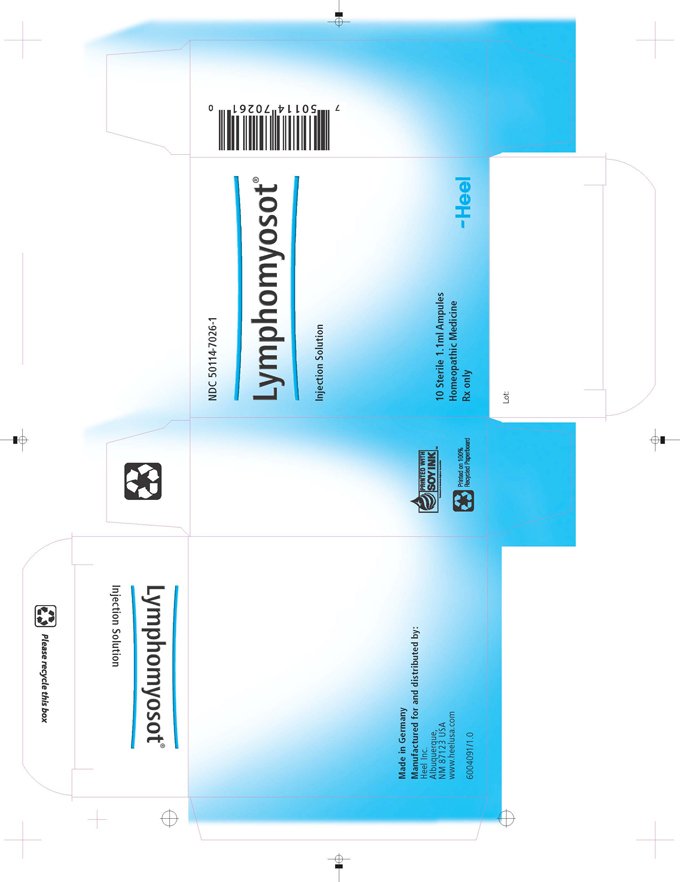 Lymphomyosot_injectable box.jpg
Lymphomyosot
geranium robertianum and rorippa nasturtium-aquaticum and tribasic calcium phosphate and levothyroxine and injection
Product Information
Product Type
HUMAN PRESCRIPTION DRUG LABEL
Item Code (Source)
NDC:52919-123
Route of Administration
INTRADERMAL, INTRAMUSCULAR, INTRAVENOUS, SUBCUTANEOUS
DEA Schedule
Active Ingredient/Active Moiety
Ingredient Name
Basis of Strength
Strength
GERANIUM ROBERTIANUM (GERANIUM ROBERTIANUM)
GERANIUM ROBERTIANUM
4 [hp_X] in 1.1 mL
RORIPPA NASTURTIUM-AQUATICUM (RORIPPA NASTURTIUM-AQUATICUM)
RORIPPA NASTURTIUM-AQUATICUM
4 [hp_X] in 1.1 mL
FERROUS IODIDE (FERROUS IODIDE)
FERROUS IODIDE
12 [hp_X] in 1.1 mL
JUGLANS REGIA FLOWERING TOP (JUGLANS REGIA FLOWERING TOP)
JUGLANS REGIA FLOWERING TOP
3 [hp_X] in 1.1 mL
MYOSOTIS ARVENSIS (MYOSOTIS ARVENSIS)
MYOSOTIS ARVENSIS
3 [hp_X] in 1.1 mL
SCROPHULARIA NODOSA (SCROPHULARIA NODOSA)
SCROPHULARIA NODOSA
3 [hp_X] in 1.1 mL
TEUCRIUM SCORODONIA FLOWERING TOP (TEUCRIUM SCORODONIA FLOWERING TOP)
TEUCRIUM SCORODONIA FLOWERING TOP
3 [hp_X] in 1.1 mL
VERONICA OFFICINALIS FLOWERING TOP (VERONICA OFFICINALIS FLOWERING TOP)
VERONICA OFFICINALIS FLOWERING TOP
3 [hp_X] in 1.1 mL
EQUISETUM HYEMALE (EQUISETUM HYEMALE)
EQUISETUM HYEMALE
4 [hp_X] in 1.1 mL
FUMARIA OFFICINALIS FLOWERING TOP (FUMARIA OFFICINALIS FLOWERING TOP)
FUMARIA OFFICINALIS FLOWERING TOP
4 [hp_X] in 1.1 mL
SODIUM SULFATE (SODIUM CATION)
SODIUM SULFATE
4 [hp_X] in 1.1 mL
PINUS SYLVESTRIS TOP (PINUS SYLVESTRIS TOP)
PINUS SYLVESTRIS TOP
4 [hp_X] in 1.1 mL
GENTIANA LUTEA ROOT (GENTIANA LUTEA ROOT)
GENTIANA LUTEA ROOT
5 [hp_X] in 1.1 mL
ARANEUS DIADEMATUS (ARANEUS DIADEMATUS)
ARANEUS DIADEMATUS
6 [hp_X] in 1.1 mL
SARSAPARILLA (SARSAPARILLA)
SARSAPARILLA
6 [hp_X] in 1.1 mL
TRIBASIC CALCIUM PHOSPHATE (CALCIUM CATION)
TRIBASIC CALCIUM PHOSPHATE
12 [hp_X] in 1.1 mL
LEVOTHYROXINE (LEVOTHYROXINE)
LEVOTHYROXINE
12 [hp_X] in 1.1 mL
Packaging
#
Item Code
Package Description
1
NDC:52919-123-10
1.1 mL in 1 AMPULE
Marketing Information
Marketing Category
Application Number or Monograph Citation
Marketing Start Date
Marketing End Date
unapproved homeopathic
04/01/2010
Labeler - Hameln Pharma GmbH (315869123)
Establishment
Name
Address
ID/FEI
Operations
Hameln Pharma GmbH
315869123
manufacture
Hameln Pharma GmbH