This material must not be used for commercial purposes, or in any hospital or medical facility. Failure to comply may result in legal action.
P.r.i.c.e. Tratamiento
CUIDADO AMBULATORIO:
El tratamiento P.R.I.C.E
es un proceso de 5 pasos que se usa para reducir la inflamación y el dolor a causa de una lesión. P.R.I.C.E. son las siglas en inglés de proteger, descansar, aplicar hielo, comprimir y elevar. Inicie el tratamiento P.R.I.C.E. entre 24 y 48 horas después de la lesión.
Busque atención médica de inmediato si:
Siente mucho dolor.
Si tiene una inflamación grave o una deformidad.
Usted tiene entumecida la zona lesionada.
Llame a su médico si:
El dolor y la inflamación no desaparecen después de algunos días.
Usted tiene preguntas o inquietudes acerca de su condición o cuidado.
Cómo utilizar el tratamiento P.R.I.C.E.: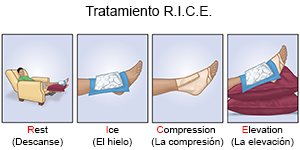 Proteja su lesión de más daño. Sostenga la zona lesionada con un soporte o una férula. Su médico le dirá por cuánto tiempo usar el soporte o férula cada día.
Descanse el área lesionada como se le indique. Es posible que deba dejar de usar peso o de ejercer peso en la lesión durante 48 horas o más. Su médico puede recomendarle que use muletas u otro dispositivo. Regrese a sus actividades usuales como se le indique.
Aplique hielo en el área lesionada de 15 a 20 minutos cada 4 horas o como se le indique. Use una compresa de hielo o ponga hielo triturado en una bolsa de plástico. Cubra la bolsa con una toalla antes de aplicarla en la piel. El hielo ayuda a evitar daño al tejido y a disminuir la inflamación y el dolor.
Compresión (mantener presión) sobre el área lesionada. La compresión le ayudará a desinflamar el área lesionada y a apoyarla. Use un vendaje elástico, un estribo de aire, una férula o un cabestrillo como se lo hayan indicado. Si utiliza un vendaje elástico, asegúrese de que el vendaje no esté demasiado ajustado. Debería poder deslizar 2 dedos entre el vendaje y la piel.
Eleve el área lesionada por encima del nivel del corazón tan seguido como pueda. Esto va a disminuir inflamación y el dolor. Coloque el área lesionada sobre almohadas o cobijas para mantenerla elevada cómodamente.
Acuda a la consulta de control con su médico según las indicaciones:
Anote sus preguntas para que se acuerde de hacerlas durante sus visitas.
Further information
Always consult your healthcare provider to ensure the information displayed on this page applies to your personal circumstances.