Prevent the Spread of CRE (Carbapenem-Resistant Enterobacteriaceae)
Medically reviewed by Drugs.com. Last updated on Oct 31, 2022.
AMBULATORY CARE:
Carbapenem-resistant Enterobacteriaceae (CRE)
are a group of bacteria that are very difficult to kill when they cause infection. Examples include E. coli and klebsiella. CRE often cause lung, urinary tract, wound, and blood infections. Carbapenems are a group of antibiotics that treat bacterial infections. In CRE infections, the bacteria release chemicals that prevent carbapenems from killing them. This is called antibiotic resistance. CRE infections can become difficult to cure and can spread to other parts of the body. CRE infections that get into the blood can be life-threatening.
Call your doctor if:
You have a fever or chills.
You have questions or concerns about your condition or care.
Prevent the spread of CRE:
Tell your healthcare provider if you have been hospitalized in another hospital or country. This may tell your healthcare provider if you are at risk for CRE and help you get early treatment for infections.
Take antibiotics as directed. Do not take antibiotics when you do not need them. Do not share antibiotics or take other people's antibiotic medicine. Overuse of antibiotics can kill the good bacteria in your gut, and increase your risk for CRE. You could also spread CRE to others.
Wash your hands often. Wash your hands several times each day. Wash after you use the bathroom, change a child's diaper, and before you prepare or eat food. Use soap and water every time. Rub your soapy hands together, lacing your fingers. Wash the front and back of your hands, and in between your fingers. Use the fingers of one hand to scrub under the fingernails of the other hand. Wash for at least 20 seconds. Rinse with warm, running water for several seconds. Then dry your hands with a clean towel or paper towel. Use hand sanitizer that contains alcohol if soap and water are not available. Do not touch your eyes, nose, or mouth without washing your hands first.
Stay away from anyone who has a weak immune system. Stay away from the very young or very old, anyone undergoing cancer treatment, or anyone with a medical condition such as HIV. A person with a weak immune system is more at risk for CRE and CRE infection. Ask your healthcare provider when you are no longer at risk of spreading CRE.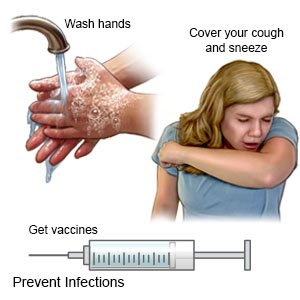 If you are caring for someone at home who has CRE:
Wear gloves any time you think you may touch the body fluids or blood of the infected person. Wear gloves when you change bandages, empty drains or catheters, change linens, or clean the person's room.
Wash your hands with soap and warm water or an alcohol-based hand sanitizer. Wash your hands after you touch wounds, help a person with CRE to the bathroom, or clean up bowel movements. Wash your hands after you touch the person's medical device, such as urinary catheter. Wash your hands before you prepare or eat food.
Use a bleach-based cleaner to clean all surfaces. You can also create a cleaning solution by mixing 1 part bleach to 10 parts water. Surfaces include the toilet, the area around the toilet, the sink, the area around the sink, and faucets. The toilet should be cleaned after each use if the person you are caring for has an active CRE infection. Items that the person uses often should be cleaned daily, such as phones, doorknobs, light switches, and remote controls. Clean the shower or bathtub after each use.
Wash dishes and silverware in a dishwasher or in hot water. Do not share unwashed dishes or silverware.
Follow up with your doctor as directed:
Write down your questions so you remember to ask them during your visits.
For more information:
Centers for Disease Control and Prevention (CDC)
1600 Clifton Road
Atlanta , GA 30333
Phone: 1- 800 - 232-4636
Web Address: http://www.cdc.gov/

© Copyright IBM Corporation 2022 Information is for End User's use only and may not be sold, redistributed or otherwise used for commercial purposes. All illustrations and images included in CareNotes® are the copyrighted property of A.D.A.M., Inc. or IBM Watson Health
The above information is an educational aid only. It is not intended as medical advice for individual conditions or treatments. Talk to your doctor, nurse or pharmacist before following any medical regimen to see if it is safe and effective for you.
Further information
Always consult your healthcare provider to ensure the information displayed on this page applies to your personal circumstances.