Extended Spectrum Beta-Lactamase
Medically reviewed by Drugs.com. Last updated on Aug 31, 2022.
What is extended spectrum beta-lactamase (ESBL)?
ESBL is an enzyme made by some bacteria. The enzyme prevents certain antibiotics from being able to kill the bacteria. The bacteria then become resistant to the antibiotics. This means stronger antibiotics must be used to kill the bacteria. ESBL infections usually occur in the urinary tract, lungs, skin, blood, or abdomen. ESBL infections are serious and can be life-threatening.
How is ESBL spread?
ESBL can live on items such as medical equipment and bathrooms. Bacteria that produce ESBL can be spread to surfaces that are touched by someone who has contact with the bacteria.
You can breathe in the bacteria through droplets when a person with an ESBL infection coughs or sneezes nearby.
What increases my risk of infection with ESBL?
Bacteria that produce ESBL live in your bowel and other parts of your body. When your immune system is weak, the risk for ESBL infection increases. The following may weaken your immune system and increase your infection risk:
Long-term medical treatment in a hospital or long-term care facility
Recent or long-term antibiotic treatment
An IV, urinary catheter, or breathing tube that becomes contaminated
An injury with an open wound, such as a surgical wound or severe burn
A long-term medical condition, such as diabetes or cystic fibrosis
A weakened immune system
How is ESBL diagnosed?
Your healthcare provider will ask about your health conditions and the medicines you take. Tell him or her about any recent hospital stays or surgeries. Healthcare providers will take samples of your blood, urine, bowel movement, or wounds. These samples are tested for infection. Other people who have been in contact with you may also be tested for ESBL.
How is ESBL treated?
Treatment may require hospital stays and long-term follow-up care. Any delay in treatment can worsen the infection. Healthcare providers will do tests to find which antibiotics still work against the bacteria that are causing your infection. Several kinds of antibiotics may need to be tried. You may be given 2 or more antibiotics at the same time. Your healthcare provider may ask if you received antibiotics within the past month. This will help him or her choose different antibiotics to lower the risk for resistance.
How can I help prevent the spread of ESBL?
You may be moved to a private room if you are in a healthcare setting. Healthcare providers and visitors may wear gowns and gloves during your care. Everyone must wash their hands before and after they leave your room. You can help prevent the spread of ESBL at home by doing the following:
Wash your hands. Use soap and hot water. Carry germ-killing gel with you if you do not have access to soap and water. Wash your hands before you make or eat food, or touch your eyes, nose, or mouth. Wash your hands after you blow your nose, sneeze, cough, or use the bathroom. Wash your hands after you touch tables, doorknobs, remote controls, or phones.
Clean surfaces. Clean doorknobs, tables, and toilets often. Ask your healthcare provider what kind of cleaner to use.
Use tissues. Cover your mouth and nose with tissues when you cough or sneeze. Throw away the tissue after you use it. Use the bend of your arm if you do not have a tissue.
Prevent another infection. Stay at least 3 feet away from people who are coughing or sneezing.
Take antibiotics exactly as directed. Do not stop taking your antibiotic unless directed by your healthcare provider, even if you are feeling better sooner. The infection may return if you do not take all of your antibiotic. Follow up with your healthcare provider as directed. Do not take antibiotics when you do not need them. Do not share antibiotics or take other people's antibiotic medicine. Overuse of antibiotics can kill the good bacteria in your body.
Ask about vaccines you may need. Get a flu vaccine as soon as recommended each year, usually starting in September or October. Get a COVID-19 vaccine and recommended booster doses. Your healthcare provider can tell you if you also need other vaccines, and when to get them.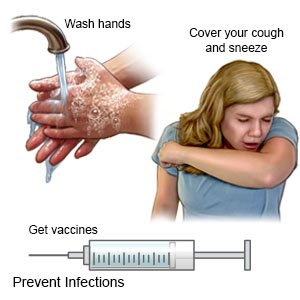 Further information
Centers for Disease Control and Prevention (CDC)
1600 Clifton Road
Atlanta , GA 30333
Phone: 1- 800 - 232-4636
Web Address: http://www.cdc.gov/

When should I call my doctor?
You have a fever, even after 3 days of antibiotic treatment.
You have questions or concerns about your condition or care.
Care Agreement
You have the right to help plan your care. Learn about your health condition and how it may be treated. Discuss treatment options with your healthcare providers to decide what care you want to receive. You always have the right to refuse treatment. The above information is an educational aid only. It is not intended as medical advice for individual conditions or treatments. Talk to your doctor, nurse or pharmacist before following any medical regimen to see if it is safe and effective for you.
© Copyright IBM Corporation 2022 Information is for End User's use only and may not be sold, redistributed or otherwise used for commercial purposes. All illustrations and images included in CareNotes® are the copyrighted property of A.D.A.M., Inc. or IBM Watson Health
Always consult your healthcare provider to ensure the information displayed on this page applies to your personal circumstances.