This material must not be used for commercial purposes, or in any hospital or medical facility. Failure to comply may result in legal action.
Covid-19 Vaccine (2 Dose)
WHAT YOU NEED TO KNOW:
What is the COVID-19 vaccine?
The COVID-19 vaccine is a shot given to help prevent infection caused by the novel coronavirus. The vaccine does not contain the virus that causes COVID-19. This means you are not at risk for getting COVID-19 from the vaccine. Instead, the vaccine teaches your immune system to recognize the virus and produce antibodies to fight it. Several vaccines have emergency use authorization. Your healthcare provider will tell you when a vaccine is available to you.
How is the COVID-19 vaccine given?
The vaccine is given as a shot in your shoulder area. Currently, 2 doses are needed for full protection. The time between doses may be 3 to 12 weeks, depending on the vaccine you get. Make an appointment to get the second dose at the time recommended by your healthcare provider.
Who should wait to get the COVID-19 vaccine?
Wait to get the vaccine if you are sick or have a fever. Wait to get the vaccine if you have taken acetaminophen or ibuprofen the day you are to get the shot.
What do I need to tell my healthcare provider before I get the vaccine?
You have thrombocytopenia, a blood clotting disorder, or are taking blood thinning medicines.
Your immune system is weakened from medicines such as chemotherapy or steroids.
You know or think you are pregnant.
You have an allergy to any component (part) of the vaccine.
You have a history of allergies.
What are the risks of the COVID-19 vaccine?
This is a new vaccine. All side effects may not be known.
You may have an allergic reaction to the vaccine.
You may not be able to get a second dose if you had a severe allergic reaction to the first dose. It may be life-threatening.
The vaccine may cause mild symptoms, such as a fever, headache, and muscle aches.
The area where you got the shot may be sore or tender. This is usually mild and goes away in a few hours.
The vaccine may not be as helpful if your immune system is weak.
You may still get infected with the coronavirus after you receive the vaccine.
What else can I do to prevent coronavirus infection?
Droplets are the most common way all coronaviruses spread. The virus spreads from person to person through talking, coughing, and sneezing. The best way to prevent infection is to avoid anyone who is infected, but this can be hard to do. An infected person can spread the virus before signs or symptoms begin, or even if signs or symptoms never develop. Continue to do the following to keep yourself and others safe, even if you have had the vaccination: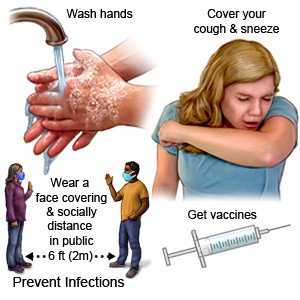 A face covering is recommended when you are in public, such as grocery stores, pharmacies, and on mass transit. You may live in an area that has a face covering mandate. This means you must wear a covering in public. Check the laws in your area before you leave your home. Bring extra coverings with you.
Follow worldwide, national, and local social distancing guidelines. Social distancing means avoiding close physical contact so the virus cannot spread from one person to another. Keep at least 6 feet (2 meters) between you and others who do not live in your house. Also keep this distance from anyone who comes to your home, such as someone making a delivery.
Wash your hands often throughout the day. Use hand sanitizer that contains alcohol if soap and water are not available. Do not touch your eyes, nose, or mouth without washing your hands first. Teach children how to wash their hands and use hand sanitizer.
Call your local emergency number (911 in the US) if:
You have signs of a severe allergic reaction, such as trouble breathing, hives, or wheezing.
Your mouth and throat are swollen.
You have chest pain or your heart is beating faster than normal for you.
Your face is red or swollen.
You have hives that spread over your body.
When should I call my doctor or the place where I got the vaccine?
You have a fever.
You have any other signs or symptoms that concern you or do not go away.
You have increased pain, redness, or swelling around the area where the shot was given.
You have questions or concerns about the COVID-19 vaccine.
Care Agreement
You have the right to help plan your care. Learn about your health condition and how it may be treated. Discuss treatment options with your healthcare providers to decide what care you want to receive. You always have the right to refuse treatment. The above information is an educational aid only. It is not intended as medical advice for individual conditions or treatments. Talk to your doctor, nurse or pharmacist before following any medical regimen to see if it is safe and effective for you.
© Copyright IBM Corporation 2021 Information is for End User's use only and may not be sold, redistributed or otherwise used for commercial purposes. All illustrations and images included in CareNotes® are the copyrighted property of A.D.A.M., Inc. or IBM Watson Health
Further information
Always consult your healthcare provider to ensure the information displayed on this page applies to your personal circumstances.