Join the 'Typhoid Fever' group to help and get support from people like you.
Typhoid Fever News
Related terms: Typhoid
Posted 11 May 2015 by Drugs.com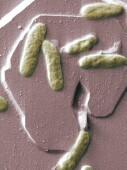 MONDAY, May 11, 2015 – An antibiotic-resistant strain of the bacteria that causes typhoid fever has spread to many countries and reached epidemic levels in Africa, a new study warns. The strain, H58, emerged in South Asia between 25 and 30 years ago and has slowly grown to become one of the predominant forms of the bacteria Salmonella Typhi, said study author Vanessa Wong, a microbiologist at ...
Posted 1 Jul 2014 by Drugs.com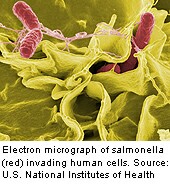 TUESDAY, July 1, 2014 – There's good news and bad news about antibiotic resistance among the germs that cause foodborne illnesses, a new U.S. government report released Tuesday shows. "Our latest data show some progress in reducing resistance among some germs that make people sick, but unfortunately we're also seeing greater resistance in some pathogens, like certain types of salmonella," Dr. ...
Further Information
Related Condition Support Groups
Typhoid Prophylaxis, Infectious Gastroenteritis
Related Drug Support Groups
azithromycin, Cipro, ciprofloxacin, Zithromax, Rocephin, ampicillin, ceftriaxone, Azithromycin Dose Pack, Cipro IV, view more... Cipro XR, Principen, Omnipen, Omnipen-N, Totacillin-N, Zmax