Join the 'Tinea Versicolor' group to help and get support from people like you.
Tinea Versicolor News
Related terms: Pityriasis versicolor
Posted 23 May 2016 by Drugs.com
ISSUE: FDA is warning health care professionals to avoid prescribing the antifungal medicine ketoconazole oral tablets to treat skin and nail fungal infections. Use of this medication carries the risk of serious liver damage, adrenal gland problems, and harmful interactions with other medicines that outweigh its benefit in treating these conditions, which are not approved uses of the drug. FDA ...
Posted 9 Oct 2015 by Drugs.com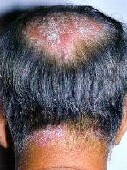 FRIDAY, Oct. 9, 2015 – Psoriasis and cold sores top the list of stigmatized skin conditions, a new survey indicates, but experts say much of the ill will directed at sufferers is misguided. Surveying 56 people, Boston researchers found that nearly 61 percent wrongly thought psoriasis – which produces widespread, scaly red skin lesions – looked contagious, and about nine in 10 said they would ...
Further Information
Related Condition Support Groups
Related Drug Support Groups
fluconazole, Diflucan, ketoconazole, ciclopirox, itraconazole, econazole, selenium sulfide, Sporanox, Ting, view more... Tinactin, Canesten, tolnaftate, Oxistat, Selsun Blue, Zeasorb-AF, Loprox, Nizoral A-D, Absorbine Athletes Foot, Selsun, Mycelex, Spectazole, Nizoral Topical, Lamisil Topical, oxiconazole, Yeast-X Int, Extina, Xolegel, Micatin, Sel-Pen Blue, Mycelex OTC, Selseb, Exsel, Versiclear, Exoderm, Dandrex, FungiCURE Pump Spray, Glo-Sel, Tersi Foam, Tinactin Deodorant Spray, Mycocide NS, Monistat-Derm, Critic-Aid Clear AF, Tinaderm, Clarus Antifungal, Ciclodan, Pedipirox-4, Ketodan, Onmel, Quinsana Plus, Abtrim, Micaderm, CNL8 Nail, DermaFungal, Selenos, Desenex Spray, Miranel AF, Triple Paste AF, Breezee Mist Antifungal, Dermagran AF, Zeasorb-AF Drying Gel, Mitrazol, Secura Antifungal, Loprox TS, Absorbine Jock Itch, Aftate For Jock Itch, Aftate For Athletes Foot, Tinactin Jock Itch, NP 27, Genaspor, Sporanox PulsePak, Fungatin, Tinamar, Aftate, Exelderm, Tetterine, Kuric, sulconazole, salicylic acid / sodium thiosulfate, Fungi-Guard, Hongos, Baza Antifungal, Fungoid Kit, Micro-Guard, Zeasorb-AF Lotion / Powder, Desenex Jock Itch, Micatin Jock Itch, Micatin Cooling Action, Ony-Clear, Micatin Foot Powder, Q-Naftate, Micatin Liquid Foot, Aloe Vesta, Fungoid, Absorbine Jr Antifungal, T-Athlete, Podactin, Tinaspore, Fungoid-D