Join the 'Threatened Abortion' group to help and get support from people like you.
Threatened Abortion News
Posted 28 Sep 2012 by Drugs.com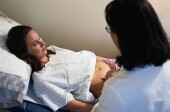 FRIDAY, Sept. 28 – Measuring progesterone levels in women with pain or bleeding during early pregnancy may help determine whether or not the pregnancy is viable, a new study says. A viable pregnancy means that there is a reasonable expectation that it will result in a live birth. Progesterone is a hormone that plays a key role in pregnancy. About one-third of women experience vaginal bleeding or ...
Further Information
Related Condition Support Groups