Join the 'Scleroderma' group to help and get support from people like you.
Scleroderma News
Related terms: CREST Syndrome, Limited scleroderma, Progressive Systemic Sclerosis, Localized scleroderma, Morphea - linear
Posted 4 Jan 2018 by Drugs.com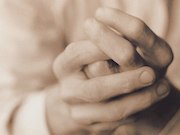 WEDNESDAY, Jan. 3, 2018 – Stem cell transplants could offer new hope for people with a severe form of scleroderma – a debilitating and deadly condition that affects the immune system, a new study suggests. "Scleroderma hardens the skin and connective tissues and, in its severe form, leads to fatal organ failure, most often the lungs," said the study's lead author, Dr. Keith Sullivan. He is a ...
Further Information
Related Condition Support Groups
Related Drug Support Groups
prednisone, methotrexate, Deltasone, cyclophosphamide, Sterapred, Liquid Pred, Sterapred DS, Rayos, Meticorten, Orasone, Prednicen-M, Prednicot