Join the 'Pruritus' group to help and get support from people like you.
Pruritus News
Related terms: Itching, Itchy Skin
Posted 30 Aug 2017 by Drugs.com
ISSUE: Lucky Mart Inc. is voluntarily recalling lots C14005, C16001 and C16002 of Piyanping Anti-Itch Lotion to the consumer level. The product was manufactured using the active pharmaceutical ingredient dexamethasone rather than hydrocortisone. Dexamethasone is not listed as an ingredient in the labeling. Dexamethasone is a higher potency steroid than hydrocortisone and may have a longer ...
Posted 11 Jun 2015 by Drugs.com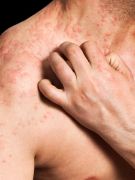 THURSDAY, June 11, 2015 – An itch that just won't go away: Many people will suffer from eczema or some other ailment involving chronic itch during their lifetime, and a new study in mice hints at why this happens. The scientists who've spotted a gene involved in chronic itch also believe the finding could lead to new treatments. The study was co-authored by Rachel Brem, a geneticist and ...
Further Information
Related Condition Support Groups
Pruritus of Partial Biliary Obstruction, Dermatological Disorders
Related Drug Support Groups
gabapentin, Benadryl, hydroxyzine, diphenhydramine, Vistaril, Zofran, Atarax, ondansetron, cyproheptadine, view more... Periactin, Benadryl Allergy, calamine, menthol, Vagisil, Xylocaine Jelly, ammonium lactate, pramoxine, Itch Relief, Bactine, Lanacane, Q-Dryl, Cortaid, Zofran ODT, Locoid, Cortizone-10, Rezine, Dermoplast, Prudoxin, Diphenhist, Vagicaine, Pandel, Lidocream, Encort, Cortaid Maximum Strength, Sarna Sensitive, Locoid Lipocream, Anucort-HC, Anusol HC, Keratol HC, Scalp-Cort, Hi-Cor, Hycort, Nogenic HC, Recort Plus, Rederm, Sarnol-HC, Scalp-Aid, Cort-Dome, Genasone / Aloe, DermacinRx Lidotral, Instacort 10, Ivocort, Beta HC, Gly-Cort, Rectacort-HC, NuCort, Proctocream-HC, Nupercainal HC 1%, Dermarest Plus Anti-Itch, Cortizone-5, Cortizone for Kids, Lidovex, Dermarest Dricort, Dermtex HC, Lidozol, CidalEaze, Dermolate, Cortizone-10 Plus, Eha Lotion, Rectasol-HC, Anumed-HC, Hydrocort cream, Zensa, Ala-Cort, Penecort, Cotacort, Lacticare-HC, Ala-Scalp HP, Cortane, Anutone-HC, Anurx-HC, Dermol HC, Anusert HC-1, Procto-Med HC, Cortaid with Aloe, Acticort 100, Aloe Cort, Anusol HC-1, Aquanil HC, Caldecort, LidoRxKit, Corticaine, Corticreme, Delcort, Anuzone HC, Proctozone-H, Buckley's Bedtime, Pedi-Cort V, MD Hydrocortisone, SM Anti-Itch, Amlactin XL, Scalacort, Pharbedryl, Geri-Hydrolac, Hydrocortisone 1% In Absorbase, Ala-Scalp, Bicozene, Corque, Curasore, Amlactin Ultra, Lidocort, Dicopanol, Dormin, Miles Nervine, Scot-Tussin Allergy, Pediaderm HC, AmLactin Cerapeutic, LidoRx, Dermasorb HC, Carmol HC, Sting Relief, Prax Wipe, Aller-G-Time, Eczemin, Diphenhist Topical, Proctozone HC, Lidazone HC, Proctosert HC, U-Cort, Lidopin, Cortaid Intensive Therapy, Adazin, Tucks HC, NuZon, Gynecort Maximum Strength, Procto-Pak 1%, Medicated Foot, Arjun, AnaMantle HC Forte, AneCream, Senatec HC, RectaGel HC, Peranex HC, Ana-Lex, Anuprep-HC, LidaMantle HC Relief, Anestafoam, Xyralid LP, Xyralid, Pramox, Anusol HC Suppositories, Siladryl Allergy, Itch-X Lotion, LidaMantle HC, Proctosol-HC, Total Allergy, Bydramine, Diphen, Diphedryl, Diphen AF, Aler-Dryl, Allergia-C, Benahist-10, Benahist-50, Benoject-50, Calm-Aid, Diphenadryl, Genahist, Trux-adryl, Hyrexin, Valu-Dryl, Diphenyl, Altaryl, Beldin, Belix, Hydramine, Siladryl, Siladryl DAS, Siladyl SA, Silphen Cough, Tusstat, Diphenylin, Hydramine Compound, Hydramine Cough Syrup, Dytan, Quenalin, Eurax, calamine / diphenhydramine, clioquinol / hydrocortisone, crotamiton, diphenhydramine / hydrocortisone, diphenhydramine / zinc acetate, trimeprazine, hydrocortisone / lidocaine, benzocaine / resorcinol, benzocaine / capsaicin / lidocaine / methyl salicylate, dimethicone, allantoin / diphenhydramine, benzyl alcohol / pramoxine, Ivarest, Complete Allergy, Ben-Tann, Dytuss, Dermarest, Banophen, Zonalon, ProctoCare-HC, Hytone, Instacort, Scalpicin, Nutracort, Hyzine, LidaMantle, Xylocaine Topical, Ala-Quin, Pardryl, Nervine, Procto-Kit 2.5%, Kerasal AL, Vio-Tex-HC, Calamine Plain, Banophen M-S, Aller-Dryl Topical, Valu-Dryl Topical, Dermarest Anti-Itch, Derma-Pax, Dermarest Plus, Dermamycin, Lac-Hydrin, Amlactin, Lac-Hydrin 5, Laclotion, HC-Derma-Pax, Dek-Quin, Invarest, Benadryl Extra Strength, Benadryl Itch Stopping, AnaMantle HC, Rectacreme HC, Cort-Dome High Potency, Cetacort, Dermacort, Westcort, Aeroseb-HC, Texacort, Procto-Kit 1%, Proctocort, Hysone, Steroform, Nu-Med, Ela-Max 5, Allermax, Diphendryl, Twilite, Banaril, Aler-Tab, Diphenydramine Quick Melt, Uni-Tann, Q-Dryl A / F, Diphenmax, Dermaflex, Medi-Quik Spray, Protech First Aid Stik, Ela-Max, LMX Plus, Iodo-HC, Senatec, Anacaine, Chiggerex, Sting-Kill, Chigger-Tox, Skeeter Stik, Vistazine, Prax, Itch-X, Calaclear, Summers Eve Anti-Itch, Sarna Ultra, Gold Bond Anti-Itch, Lidozion