Join the 'Poison Oak' group to help and get support from people like you.
Poison Oak News
Posted 11 Aug 2016 by Drugs.com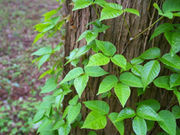 THURSDAY, Aug. 11, 2016 – When you're enjoying the great outdoors, be on the lookout for poison ivy, poison oak and poison sumac. The urushiol oil in their sap can cause itching, a red rash and blisters. These symptoms can appear from a few hours to several days after exposure, according to the U.S. Food and Drug Administration. Learn what these plants look like so you can avoid them. The old ...
Further Information
Related Condition Support Groups
Related Drug Support Groups
Caladryl Clear, pramoxine / zinc acetate, aluminum hydroxide topical, benzethonium chloride / diphenhydramine / zinc acetate, benzocaine / camphor / phenol, benzyl alcohol / pramoxine, Callergy Clear, Caldyphen Clear, Clear Calamine