Join the 'Persisting Pain, Shingles' group to help and get support from people like you.
Persisting Pain, Shingles News
Posted 4 Jun 2015 by Drugs.com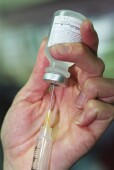 TBD, 2015 – Even when shingles vaccination does not prevent the disease, it reduces the risk of long-term pain that can occur as a complication of the condition, according to a new study. Although the U.S. Advisory Council on Immunization Practices recommends shingles vaccination for people 60 and older, vaccination rates remain low, the researchers say. "Hopefully, this study will encourage ...
Posted 2 Feb 2011 by Drugs.com
MENLO PARK, Calif., Jan 28, 2011 - --Depomed, Inc. today announced that US FDA has approved Gralise (gabapentin) Tablets for once-daily treatment of post-herpetic neuralgia (PHN), which is pain following healing of the rash associated with shingles. Gralise was developed by Depomed under the code name DM-1796 and is licensed to Abbott Products, Inc. in the U.S., Canada and Mexico. The approval of ...
Further Information
Related Condition Support Groups
Related Drug Support Groups
gabapentin, Lyrica, Neurontin, clonidine, nortriptyline, pregabalin, Lidoderm, Gralise, capsaicin, view more... Horizant, Pain Doctor, gabapentin enacarbil, Capzasin, Zostrix, Capzasin-HP, ZTlido, Capzasin-P, Qutenza, Trixaicin, Sloan's Liniment, Pain-X, Drs Cream, Trixaicin HP, Lyrica CR, CidalEaze, R-Gel, Gabarone, No Pain-HP, Zostrix-HP, Zostrix Neuropathy, GNP Capsaicin, Capsin, Dolorac, Axsain, RT Capsin, Salonpas Gel-Patch, Capzasin Back and Body, Icy Hot PM, Zostrix Sports, Capsicum Oleoresin, Castiva Warming