Join the 'Peritonitis' group to help and get support from people like you.
Peritonitis News
Posted 30 Nov 2015 by Drugs.com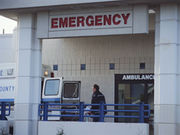 MONDAY, Nov. 30, 2015 – Minority patients are much less likely than white patients to be given pain medications when they seek emergency department treatment for abdominal pain, a new study shows. Minority patients were also more likely to have longer ER waiting and visit times and less likely to be admitted to the hospital, the study revealed. "These findings add to the overwhelming evidence ...
Further Information
Related Condition Support Groups
Related Drug Support Groups
metronidazole, clindamycin, Cipro, ciprofloxacin, Flagyl, vancomycin, cefuroxime, Rocephin, ampicillin, view more... Metro, Ceftin, Cleocin, gentamicin, tobramycin, ceftriaxone, amikacin, Flagyl IV, cefazolin, Ancef, cefotaxime, Garamycin, Zosyn, Vancocin, Cleocin HCl, Unasyn, Cleocin Pediatric, Tobi, piperacillin / tazobactam, piperacillin, kanamycin, albumin human, Amikin Pediatric, Primaxin IM, Vancocin HCl, Timentin, Fortaz, Cefizox, Amikin, cefoperazone, cefoxitin, ceftazidime, cilastatin / imipenem, Cleocin Phosphate, Plasbumin-20, Vancocin HCl Pulvules, Albuked 25, Kedbumin, Flagyl 375, Metro IV, Protostat, Plasbumin-25, Metryl, Albuked, Nebcin Pediatric, Lyphocin, Kantrex, Alburx, Albuminar-5, Albumarc, Buminate, Albuminar-25, Albunex, Cefobid, Albuminar-20, Flexbumin, Human Albumin Grifols, Plasbumin-5, Albumin-Alpine, Albuked 5, Ticar, Pipracil, Zinacef, ampicillin / sulbactam, aztreonam, cefotetan, ceftizoxime, clavulanate / ticarcillin, ticarcillin, Albutein, Plasbumin, Azactam, Claforan, Cefotan, Mefoxin, Tazicef, Cipro IV, Kefurox, Cipro XR, Nebcin, Principen, Primaxin IV, Omnipen, Omnipen-N, Totacillin-N, Kefzol, Ceptaz, Tazidime, Tazicef Novaplus, Cidomycin, Septopal, Albumin-ZLB