Join the 'Occupational Exposure' group to help and get support from people like you.
Occupational Exposure News
Posted 4 Apr 2013 by Drugs.com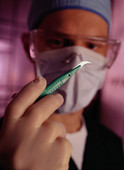 THURSDAY, April 4 – Injuries caused by sharp medical instruments are a major hazard for surgeons and other operating room staff, and put them at risk for infection with serious diseases, according to experts. Nearly 400,000 "sharps" injuries occur each year in the United States, and about 25 percent of those injuries occur among surgeons, with their risk at the highest while in the operating ...
Further Information
Related Drug Support Groups
Atripla, Truvada, Viread, tenofovir, abacavir, Combivir, efavirenz, raltegravir, Epzicom, view more... lamivudine, Trizivir, Retrovir, Epivir, Sustiva, Ziagen, zidovudine, nelfinavir, indinavir, lamivudine / zidovudine, Isentress, Epivir-HBV, Crixivan, Emtriva, abacavir / lamivudine, Fortovase, Invirase, saquinavir, emtricitabine / tenofovir, emtricitabine, efavirenz / emtricitabine / tenofovir, abacavir / lamivudine / zidovudine, Viracept