Join the 'Myeloproliferative Disorders' group to help and get support from people like you.
Myeloproliferative Disorders News
Posted 17 Nov 2011 by Drugs.com
November 16, 2011 – The U.S. Food and Drug Administration today approved Jakafi (ruxolitinib), the first drug approved to specifically treat patients with the bone marrow disease myelofibrosis. Myelofibrosis is a disease in which the bone marrow is replaced by scar tissue resulting in blood cells being made in organs such as the liver and the spleen. This disease is marked by an enlarged ...
Posted 9 Dec 2008 by Drugs.com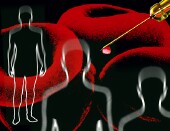 TUESDAY, Dec. 9 – An experimental drug called CYT387 blocks an enzyme that causes bone marrow cancers called myeloproliferative disorders (MPDs), according to U.S. researchers who conducted tests in mice and human cells. The findings were to be presented Tuesday at the annual meeting of the American Society of Hematology, in San Francisco. The researchers, from Oregon Health & Science ...
Further Information
Related Condition Support Groups
Multiple Myeloma, Thrombocythemia, Polycythemia, Myelofibrosis, Bone Marrow Depression / Low Blood Counts, Myelodysplastic Diseases, Blood Disorders
Related Drug Support Groups