Join the 'Medicine' group to help and get support from people like you.
Medicine News
Posted 21 Apr 2015 by Drugs.com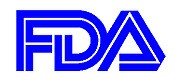 TUESDAY, April 21, 2015 – Homeopathic treatments could receive greater scrutiny from the U.S. Food and Drug Administration in the near future, as their growing popularity has led some critics to call for tighter regulation. The FDA on Tuesday wrapped up two days of public hearings on homeopathic treatments, in which the agency took testimony on whether it should regulate the natural remedies the ...