Join the 'Lymphatic obstruction' group to help and get support from people like you.
Lymphatic obstruction News
Related terms: Lymphedema
Posted 1 Nov 2017 by Drugs.com
WEDNESDAY, Nov. 1, 2017 – Liposuction may help people with lymphedema – a painful, disfiguring swelling of the arms, hands, legs or feet. Harvard researchers used the surgical technique to remove fat from just underneath the skin in three people with the condition. Two of the patients had lymphedema as a side effect of cancer treatment. The other one had a naturally developing form of ...
Posted 10 Dec 2015 by Drugs.com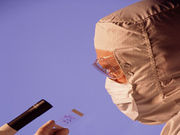 THURSDAY, Dec. 10, 2015 – Scientists are testing a noninvasive alternative to lymph node biopsy for detecting early signs that melanoma skin cancer has spread. Patients currently undergo surgical removal, often involving a radioactiver tracer, of these lymph nodes to screen for wayward cancer cells. But researchers say that in most cases this approach uncovers no sign of cancer spread while ...
Further Information
Related Condition Support Groups