Join the 'Graves' Ophthalmopathy' group to help and get support from people like you.
Graves' Ophthalmopathy News
Posted 18 May 2011 by Drugs.com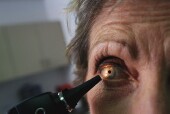 WEDNESDAY, May 18 – The trace mineral selenium improves quality of life and slows the progression of eye problems in people with the autoimmune disorder known as Graves' disease, a new study says. Italian researchers report that they compared daily selenium use to both a medication called pentoxifylline and a placebo, and found that selenium could benefit people with Graves' disease with eye ...
Further Information
Related Condition Support Groups