Join the 'Epiglottitis' group to help and get support from people like you.
Epiglottitis News
Related terms: Supraglottitis
Posted 6 Jul 2015 by Drugs.com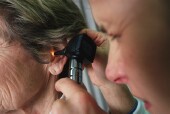 MONDAY, July 6, 2015 – Many health care professionals work when they are sick, putting their patients at risk for serious illness or even death, new research suggests. The danger is greatest for patients with weakened immune systems, and the study authors noted that these practices also increase health care costs. Since the consequences of these types of infections can be significant, the ...
Further Information
Related Condition Support Groups
Upper Respiratory Tract Infection
Related Drug Support Groups
Bactrim, Bactrim DS, sulfamethoxazole / trimethoprim, cefuroxime, Rocephin, Ceftin, ceftriaxone, Septra, SMZ-TMP DS, view more... Septra DS, Sulfatrim, cefotaxime, Unasyn, Sulfatrim Pediatric, Cotrim, Co-trimoxazole, Bactrim IV, Cotrim DS, Bactrim Pediatric, Cefizox, Bethaprim, Kefurox, Uroplus, Uroplus DS, Septra IV, Zinacef, Bethaprim Pediatric, Cotrim Pediatric, Claforan, ceftizoxime, ampicillin / sulbactam