Join the 'Cocoa' group to help and get support from people like you.
Cocoa News
Posted 24 Mar 2015 by Drugs.com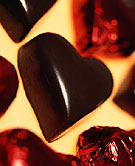 TUESDAY, March 24, 2015 – Researchers say they have found a way that might make chocolate healthier and more delicious. Past research has suggested that chocolate is linked to a number of health benefits, such as lower blood pressure and cholesterol levels, and reduced stroke risk, due to antioxidants called polyphenols, according to the researchers. The process of making chocolate begins when ...
Further Information
Cocoa Patient Information at Drugs.com