Join the 'Biliary Tract Tumor' group to help and get support from people like you.
Biliary Tract Tumor News
Related terms: Bile duct cancer, Cancer, Bile Duct, Cholangiocarcinoma
Posted 3 Jun 2009 by Drugs.com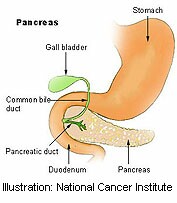 WEDNESDAY, June 3 – Mayo Clinic researchers say they have developed new tests that make it easier to diagnose cancers of the pancreas and bile ducts. In a study, the new tests more than doubled the detection rate of these cancers, which frequently are fatal because they often are not discovered until their later stages. "The earlier we can diagnose a patient, the better the types of treatment we ...
Further Information
Related Condition Support Groups
Biliary Obstruction, Biliary Tract and Hepatic Tumor, Gallbladder Disease