Join the 'Berylliosis' group to help and get support from people like you.
Berylliosis News
Related terms: Beryllium Disease, Chronic, Chronic Beryllium Disease, CBD
Posted 6 Aug 2015 by Drugs.com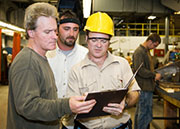 THURSDAY, Aug. 6, 2015 – A new standard to significantly reduce American workers' exposure to the lung disease-causing metal beryllium has been proposed by the federal government. The new rule would affect about 35,000 workers covered by the U.S. Department of Labor's Occupational Safety and Health Administration (OSHA), and could prevent nearly 100 deaths and 50 serious illnesses a year. People ...
Further Information
Related Condition Support Groups
Related Drug Support Groups
prednisone, cortisone, triamcinolone, Kenalog-40, Deltasone, Sterapred, Sterapred DS, Meticorten, Liquid Pred, Orasone, Prednicen-M, Prednicot, Cortone Acetate, Clinacort