Join the 'Antibiotics' group to help and get support from people like you.
Antibiotics News
Posted 1 Dec 2015 by Drugs.com
-- An antibiotic can be a lifesaver if you or someone you love has a bacterial infection. But an antibiotic isn't always appropriate or necessary, warns the U.S. Centers for Disease Control and Prevention. Here are potential risks: Causing inadvertent destruction of "good" bacteria, which may cause additional problems, such as a yeast infection or diarrhea. Causing an infection that's resistant ...
Posted 18 Feb 2015 by Drugs.com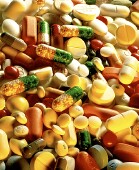 WEDNESDAY, Feb. 18, 2015 – Rivers and streams could be major contributors to antibiotic resistance due to the many infection-fighting medications flushed into them, a new study says. Antibiotic resistance means that commonly used medications don't work as well – or don't work at all – in fighting infections. For this study, British researchers analyzed water and sediment samples from 13 sites ...