Join the 'Amyloidosis' group to help and get support from people like you.
Amyloidosis News
Related terms: Amyloidosis, primary, Amyloidosis, Secondary Systemic
Posted 6 Mar 2015 by Drugs.com
FRIDAY, March 6, 2015 – The U.S. Food and Drug Administration has approved the first device to treat dialysis-related amyloidosis (DRA), a complication of dialysis used to treat kidney failure. DRA is a rare, yet chronic, condition caused by blood buildup of a protein called beta 2-microglobulin. It occurs most often among people aged 60 or older who have been on dialysis for more than five ...
Posted 29 Aug 2013 by Drugs.com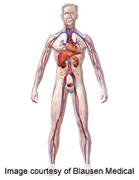 THURSDAY, Aug. 29 – A new medication appears to be highly effective in combating a heredity-based form of the organ-damaging genetic disorder known as amyloidosis, according to researchers. Amyloidosis refers to a family of more than a dozen diseases in which different types of abnormal proteins called amyloids lodge in major organs and nerves. These amyloids build up to the point that they ...
Further Information
Related Condition Support Groups
Amyloidogenic Transthyretin Amyloidosis, Periodic Fever Syndrome, Tumor Necrosis Factor Receptor Associated Periodic Syndrome, Connective Tissue Disorders
Related Drug Support Groups